Most Popular Neighborhoods in Raleigh: Raleigh, NC Community Guide
Posted by Katherin Burnette on Monday, February 22, 2021 at 8:40 AM
By Katherin Burnette / February 22, 2021
Comment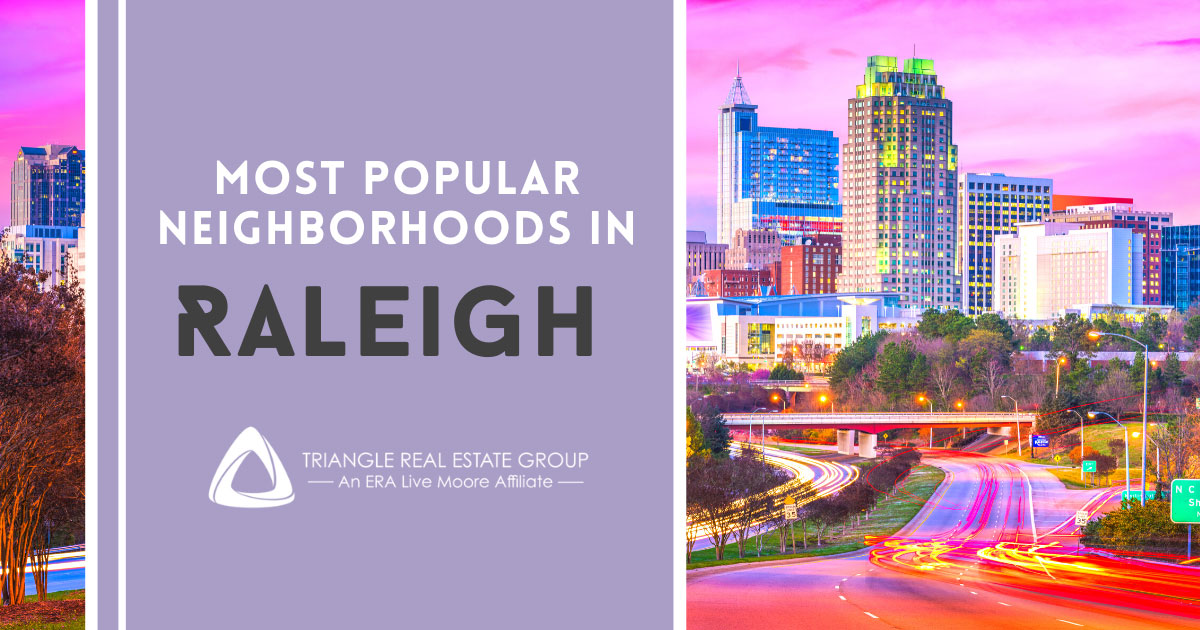 Raleigh, North Carolina, is a popular city to live in the United States. Known as the City of Oaks, many of the streets in the city are lined with beautiful live oak trees. In addition to the trees, Raleigh is also home to the world-famous Research Triangle Park. This hub of incredibly large organizations and research companies employs many of Raleigh's residents.
With all that Raleigh has to offer in its downtown and surrounding areas, many individuals are looking to move to the city. When one is looking to move into the area, they need to consider the most popular neighborhoods in Raleigh. This list covers what the top neighborhoods in Raleigh have to offer those who call them home.
North Hills
North Hills Amenities
Live music and outdoor workouts occur regularly
Easy access to major highways
Highly rated Carolina Country Club
Trails for running, biking, and dog walking
The North Hills neighborhood is one of the fastest-growing neighborhoods in Raleigh. Located just north of the belt line, this neighborhood used to only be trees. Now, the entire neighborhood offers residents what they need to enjoy their day-to-day life without driving very far. Residents can easily access live music, fine dining, outdoor workouts, movies, fast food, and farmers' markets. These regular activities allow residents to improve their health, enhance their lifestyle, and meet their neighbors.
North Hills also features the Carolina Golf Club, which is a golfer's dream come true. The many golf course homes allow residents to enjoy a cup of coffee before getting ready to hit the first hole.
Prices for these homes begin at $450,000. Popular styles one will find in North Hills include ranch-style and modern luxury homes. All homes have been constructed in recent years and offer unique characteristics.
Downtown
Downtown Amenities
City skyline views from townhomes
Close proximity to bars, restaurants, and coffee shops
Quick access to major roadways
Live, work, and play all in one area
Anyone who loves the hustle and bustle of a city will enjoy living in Downtown. Downtown Raleigh is incredibly desirable because everything is just a short distance away. Small stores for everyday goods, bars, restaurants, cafés, community work spaces, yoga, and much more are just a few minutes of travel from most homes in Downtown. Additionally, major roadways are not far off from the downtown area.
Housing in Downtown is varied, which means new residents have plenty of options to choose from. Condos, townhomes, and single-family homes with small yards are all available in Downtown Raleigh. Those who live on higher floors can catch a nice view of the city skyline. The average home price in Downtown is just below $500,000.
Stonehenge
Stonehenge Amenities
Annual Halloween parade and holiday light contest
Easy access to Interstate 540 and adjacent roadways
Many sidewalks for walking, jogging, and biking
Those who work in the city and want to escape the hustle and bustle will love living in Stonehenge. This neighborhood offers comfortable living and more space than one would find in other Raleigh neighborhoods.
Located just below Interstate 540, residents can quickly get to and from work each day. Stonehenge is community-focused and features a number of annual events. Additionally, residents have access to various clubs, such as the Seven Oaks Swim and Racquet Club.
Homes in Stonehenge are single-family homes and townhomes. Many of the homes feature the same characteristics, which solidifies the neighborhood and the community. The median home value for these homes is close to $400,000. However, the prices for homes range from the low $200,000s to the high $600,000s. Residents are sure to find a home that fits their needs and budget without sacrificing amenities in the Stonehenge neighborhood.
Brier Creek
Brier Creek Amenities
Home to Arnold Palmer's Brier Creek Country Club
Easy access to Research Triangle Park & Raleigh's International Airport (RDU)
Immediate access to Interstates 40 and 540
Always expanding to serve a wider range of needs
Brier Creek is located right in the heart of the Research Triangle Park, which makes it perfect for anyone who works in RTP and wants a short commute. This neighborhood is growing at a rapid rate due to its prime location. The Brier Creek Country Club is in the heart of the neighborhood, which was designed by Arnold Palmer.
Brier Creek was only golf courses and trees in the 1990s. Now, it is home to thousands of structures for individuals to call home.
The types of residences in Brier Creek vary greatly in size, design, and price. Single-family homes and condos can be found throughout the community. Many of these homes offer small yards on manicured streets. Brier Creek is well-known for having homes in a range of prices from the low $300,000s to the high $500,000s. Large, luxurious homes that are built right on the golf course start at $1 millon.
This neighborhood is always expanding, as new facilities are built each year. The most recent development is a retirement community, while future developments include schools, playgrounds, and parks.
Falls River
Falls River Amenities
All homes built in the last two decades
Minutes from Interstate 540
Playgrounds and parks
Falls River is the ideal neighborhood for residents who want to live in a newer, well-established community. Built in 2000, this neighborhood offers a number of sidewalks, parks, and connecting streets. The speed limit is consistent and slow, which makes it convenient for everyone to walk their dogs, ride their bikes, and exercise. Falls River was built to feel like a small town in the middle of a big city, which is exactly what the developers accomplished.
Residents will find quick access to major roadways from Falls River. Homes here have a median home value of $350,000.
Village District
Village District Amenities
Stunning city skyline views
Numerous opportunities to engage in fitness and yoga
Nearly everything is within close proximity to most homes
Easy access to major roadways
Village District is the perfect neighborhood for residents who want to keep the city skyline in view while still enjoying more suburban living. This neighborhood offers a number of amenities within close proximity. Residents can shop and play right in their own neighborhood seven days a week. Outdoor shopping is a large part of the culture in Village District, along with outdoor dining. Aside from shopping and dining, residents can also take part in yoga and fitness classes.
Ranch-style homes make up the majority of Village District. The neighborhood is located west of Downtown Raleigh and near North Carolina State University. Most of the real estate in Village District begins at $550,000.
Village District Hotspots
Village District Shopping
Village District Cafés
Village District Restaurants
Choosing Your Raleigh Neighborhood
Raleigh, North Carolina, offers residents new and exciting experiences. As a city that continues to grow and develop with a reasonable cost of living, new residents and long-time locals are glad to call Raleigh home. The neighborhoods in the area offer residents the ability to access what they need to thrive and have fun close to their house.