Best Water Activities in Raleigh: Raleigh, NC Water Recreation Guide
Posted by Katherin Burnette on Monday, June 28, 2021 at 5:13 PM
By Katherin Burnette / June 28, 2021
Comment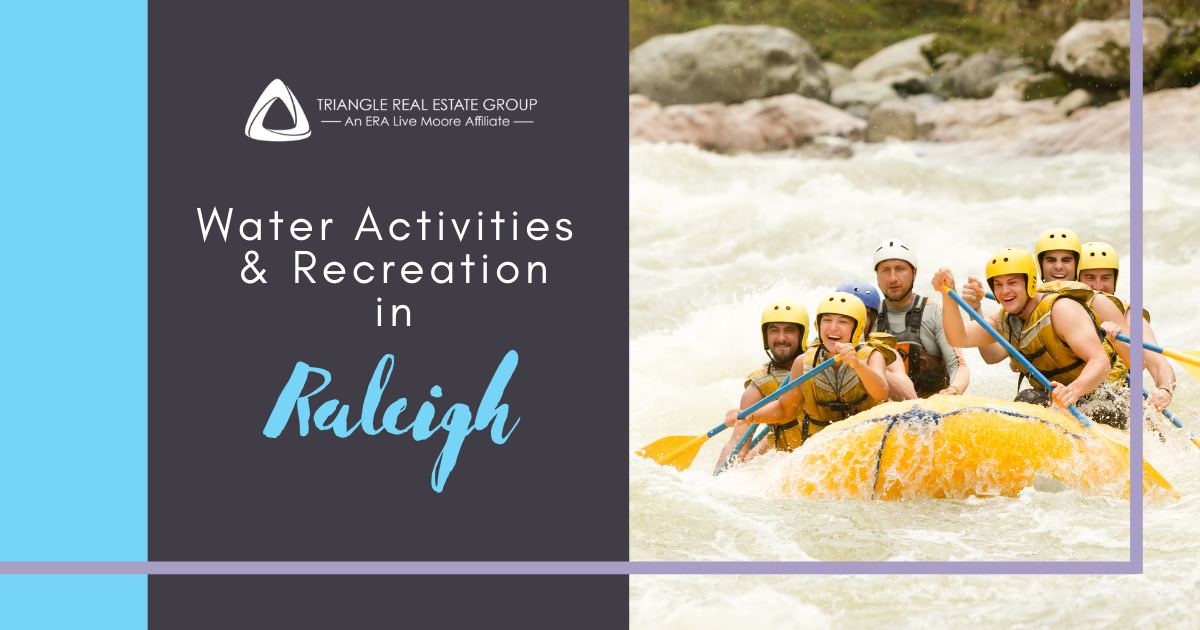 Raleigh, NC, is known for a wide array of activities, and it certainly doesn't disappoint when it comes to water recreation. The city is surrounded by numerous lakes that provide residents and visitors alike with hours of fun on every visit. Whether residents live on Raleigh's waterfronts outright or dwell farther away in Raleigh's downtown townhomes, they can find many water recreation opportunities within a half-hour drive. From swimming and diving to boating, fishing, and more, there's something for everyone to do on the water in Raleigh. If you're ready to join the fun, read on to discover the best water recreation activities in and around the city.
Go Fishing at William B. Umstead State Park
William B. Umstead State Park Amenities
Three lakes
Regularly stocked
Small non-gas watercraft allowed
One of the most popular water recreation activities is fishing at William B. Umstead State Park. With three artificial lakes regularly stocked, individuals with valid fishing licenses are permitted to fish year-round. The most common catches in these lakes include bass, bluegill, and crappie. The park is open from dawn to dusk 365 days a year. It's common to see fishing enthusiasts arriving at dawn to get started as early as possible.
Of the lakes, Big Lake is the largest, spanning over 55 acres. With a broad gravel path, it's easy for individuals to access. The other two lakes, Reedy Creek Lake and Sycamore Lake, are about 25 acres each. These are further downstream and slightly harder to access.
The trails leading to the lakes have roots along the path. Fishing from shore is permitted on all lakes. Those who wish to bring small non-gasoline-powered water vessels to the lake are permitted — however, they need to be launched from shore.
Go Sailing at Jordan Lake
Jordan Lake Amenities
Almost 14,000 acres
Boat ramps and storage
Watercraft rentals
Convenience store
Jordan Lake is the perfect place to spend a morning, day, or evening on the water. With almost 14,000 acres of surface area, the lake is large enough for everyone to enjoy. Two of the boat ramps are open 24 hours a day, so no one is forced to end their day on the water before they're ready. The remaining boat ramps are only open during park hours (dawn to dusk). The lots attached to these ramps have gates that lock at closing time, so it's important to plan.
Boats of various sizes, including sailboats, are permitted on the lake. However, it's important to pay attention to underwater hazards in the lake, as many stumps, logs, and rocks are present. The Uniform Waterway Marker System is installed and must be obeyed at all times to ensure everyone's safety on the water. Organizations such as the Carolina Sailing Club organize races at Vista Point.
Many windsurfers can be seen testing their skills and putting on a show for onlookers when the weather permits. For those who want to store boats or rent watercraft, Crosswinds Boating Center is ready to serve all of their needs. As the only marina on Jordan Lake, it offers a gas dock and convenience store stocked with drinks, snacks, ice, and bait. Visitors may rent pontoon boats along with kayaks and paddleboards.
Go Swimming at Falls Lake
Falls Lake Amenities
Over 12,000 acres
Five swim beaches
Non-gas boats and paddleboards allowed
Falls Lake offers over 12,000 acres of pristine water, perfect for swimming. The sandy beaches and nearby restrooms make it easy for everyone to lay out a blanket and enjoy the day. Currently, five swim beaches have been established on the lake. Certain beaches are accessible only to campers, while others are open to the public. It's common to see visitors playing soccer, football, and beach volleyball during their visit.
Non-gasoline-powered boats and paddleboards are permitted on the lake, so swimmers should be aware of their surroundings at all times. The lake has fish and other wildlife nearby and is incredibly deep, with some areas reaching 52 feet. There are no lifeguards on duty, so every visitor is swimming at their own risk.
Go Rafting with Cape Fear River Adventures
Cape Fear River Adventures Amenities
Class II, II+, III rapids
Trained and licensed guides
Training before departure
Cape Fear River Adventures is a seasonal activity in Raleigh that sells out fast. Because certain water levels and conditions are required to begin a rafting adventure, visitors are served on a first-come, first-serve basis.
Most often, rafting is a spring activity. Depending on the year, rafting may be permitted into the summer and autumn. A waiting list is available that will notify interested parties about when river conditions are appropriate.
When the rafting adventure begins, guests will enjoy several miles of calm water. However, guests shouldn't get too comfortable because they will quickly enter the largest rock garden of the Cape Fear River. Class II, II+, and possible Class III rapids will provide an adrenaline rush for all guests. Prices start at $59 per person.
Every guest has the option to help paddle or simply sit back and enjoy. Each boat has a trained and licensed guide on board, so guests never have to worry about getting stuck. The guides are happy to provide training before departing to ensure everyone feels comfortable and confident during their rafting adventure.
Go Scuba Diving at Fantasy Lake Scuba Park
Fantasy Lake Scuba Park Amenities
Depths from 32–80 feet
Sunken bus
Sunken boats
Fish
Training platforms
Campsites
Fantasy Lake Scuba Park is a wonderful experience for novices and experienced divers alike. Starting as an abandoned quarry, it's now the largest scuba diving park on the east coast.
At depths ranging from 32 to 80 feet, divers can find a sunken bus, many boats, swarms of fish, and more in the clear water. The lake is reserved solely for diving so that no one will be swimming, boating, kayaking, or participating in any other activity on the water.
Fantasy Lake Scuba Park offers training platforms, which are used to introduce individuals to diving and hone skills. Furthermore, divers can camp at one of the 14 primitive campsites on private land. Divers may bring guests with them, but guests must stay onshore or at the campsite.
Make a Splash in Raleigh
A day spent on the water is a day well spent. The ability to leave the city and reach secluded water activities within a short drive isn't a luxury all cities can provide their residents or visitors. Whether one wants to lie on a sandy beach, explore the depths of a lake, scream while going through river rapids, or learn new boating skills, all of these are possible in Raleigh.
Combined with the Triangle Research Park, numerous shopping malls, pet-friendly restaurants, and an array of local parks, Raleigh residents truly have it all. Raleigh is one of the best cities in the United States, where residents can easily access any activity without driving for more than 30 minutes. What more could one ask for?