Raleigh Driving & Commute Times
Posted by Katherin Burnette on Friday, May 7, 2021 at 6:00 AM
By Katherin Burnette / May 7, 2021
Comment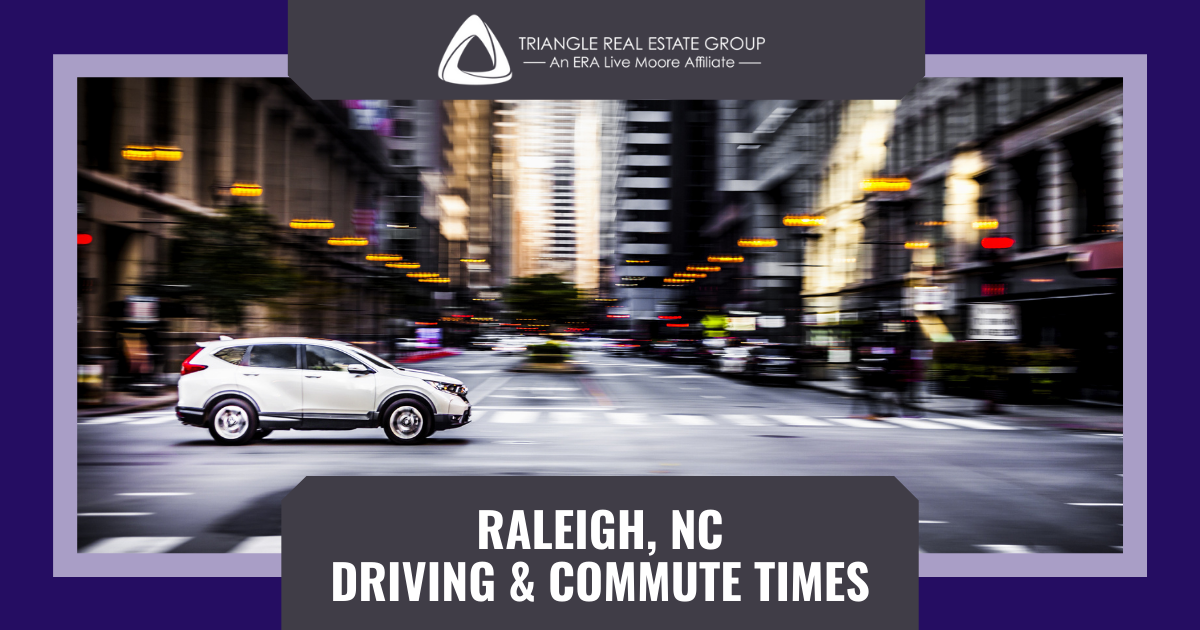 Each year, the city of Raleigh in North Carolina continues to rank high among the best places to live in America. Between the burgeoning entrepreneurial scene and the major corporate and research powerhouses, open jobs continue to flow. People keep moving to Raleigh, from those who gravitate toward Raleigh's condos to those who desire spacious luxury homes. Downtime affords diverse activities, from outdoor adventures on trails and rivers through rich cultural and culinary activity.
Each year, the range of what Raleigh has to offer continues to grow. However, these offerings mean little if people have no way to get around and access them. Although public transit is available, Raleigh is a place where having a car grants maximum access. The roads and parking only continue to improve, making Raleigh more car-friendly than ever. Here's what to know about driving in Raleigh.
Get to Know Your Major Raleigh Roads
The most common landmarks used to refer to Raleigh's geography are its roads, so getting familiar with them is key.
The Beltline is one of the most common reference points, referring to interstate 440 that runs east-west. Because I-440 runs around the central part of the city, it's commonly used as a reference point. "Inside the Beltline" denotes geography closer to the city center, which lines up with higher property values and denser population.
Interstate 40, also known as I-40 or just 40, also runs east-west in Raleigh, but it hugs its southern border.
There are a few key streets to know in Raleigh. Fayetteville Street is the main street through downtown Raleigh and very much the center of nightlife. Glenwood Avenue is a secondary "main street" of sorts, although it runs much longer than Fayetteville Street and through several neighborhoods. Hillsborough Street runs through the North Carolina State University campus and is another locally beloved street. Capital Boulevard is a major road through Raleigh that connects downtown with northeastern suburbs, major highways, and several local industrial centers.
What to Expect During Rush Hour in Raleigh
The vast majority of people in Raleigh enjoy a morning commute of 15–25 minutes or less, although some have a 30- to 34-minute morning commute. Peak morning rush hour occurs between 7 and 8:30 a.m.
Usually, the rush hour only adds about three minutes of extra travel time to individual commutes, although on occasion, accidents can cause significant traffic jams.
The afternoon commute averages roughly the same length in time as the morning one, but it extends over a slightly longer window of time from 5–7 p.m. On Fridays or before holidays, the afternoon rush hour can actually start as early as 3 p.m.
Heavy highway expansion is planned for the Raleigh area, which should help alleviate some rush-hour congestion. Additionally, rideshares and remote work options are being more widely adopted, putting fewer vehicles on the road.
Raleigh Parking
Downtown Raleigh contains over 70 different paid parking lots and parking decks, meaning there's always somewhere to park while digging into everything the city has to offer. Many of these options even allow for covered spaces, so cars and passengers alike can be protected in the case of inclement weather. Using the Passport Parking App, payment can be handled easily from any mobile device.
On- and off-street parking is widely available for businesses, residents, and visitors, available through various apps linked to the Raleigh city website. There are some special rules, particularly on major streets, that affect parking. Should someone receive a parking citation, online resources can help appeal the citation or pay it. Raleigh strictly enforces its parking rules, including its "No Parking" zones. Therefore, it is advisable to follow the rules at all times, which are designed to help promote optimal traffic flow and safety.
Residents may purchase residential parking permits for $20 annually. These city parking permits grant residents special access to park in designated zones that do not allow visitor parking. This is one way the city makes owning a car friendly: ensuring those who have one also have an appropriate place to put it.
Other Helpful Things to Know About Driving in Raleigh
There are some special rules to keep in mind when driving in Raleigh, or drivers can face fines, court costs, and potentially other consequences depending on the severity of the infractions. Some general rules include drivers are never to text, always to wear their seatbelts (as are their passengers), and should never speed through work zones.
Drivers of motorcycles or mopeds must wear a helmet while on their vehicles, while children under the age of 16 must wear helmets on bicycles.
If an emergency vehicle is pulled over on the highway shoulder, drivers must reduce their speed and move over one lane.
Get Around in Raleigh
Several projects are lined up to widen Raleigh's roads further and put in place increased safety features. Many of these projects extend through the entire Triangle region, including Durham and Chapel Hill. The coming years will see increased mobility around town, paralleling increases in local attractions and destinations.