Is Raleigh Dog-Friendly?: The Best Places to Take Your Dog in Raleigh, NC
Posted by Katherin Burnette on Friday, June 11, 2021 at 11:10 AM
By Katherin Burnette / June 11, 2021
Comment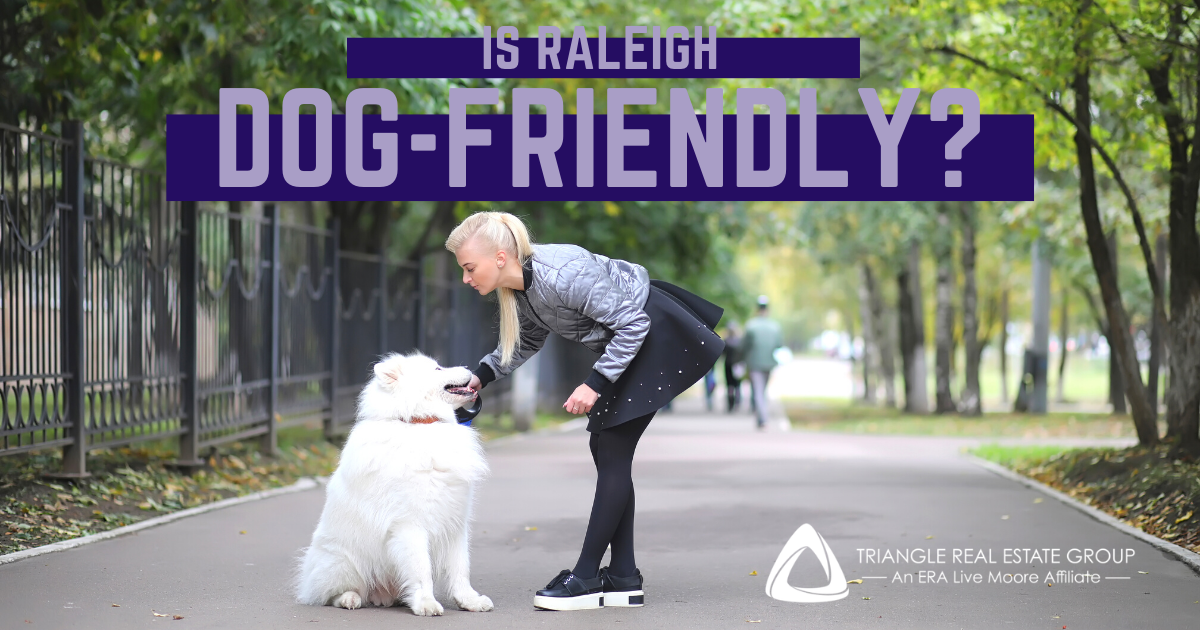 What better place to own a dog than Raleigh, the City of Oaks? Owners can enjoy time outdoors with their four-legged friends and take in all of the beautiful sights the city offers. Being cooped up in a condo in Raleigh's downtown or even a spacious Raleigh luxury home can feel limited at times, so finding pet-friendly activities means that pets and owners alike can enjoy breathing in the fresh air.
If anyone has been wondering if Raleigh is dog-friendly, the answer is yes! Between activities, parks, trails, shopping, and dining, dogs are welcome in and around Raleigh if they're leashed and under the control of their owner. Read on for some dog-friendly places in Raleigh to spend time with your best bud.
Dog-Friendly Activities in Raleigh
When it comes to dog-friendly activities, Raleigh has many unique opportunities for dogs and their owners to engage together.
Woofinwaggle is a dog-friendly fitness center situated in North Raleigh. Owners and pets alike can work on improving their physique. While dog owners engage in their gym routine, dogs can use the agility equipment and obstacle course. Woofinwaggle is also a dog spa and offers custom pet portraits by local Raleigh artist Shawn Hart.
Many breweries open their doors to dogs. Mordecai Beverage Company was the first to combine a brewery, taproom, and bottle shop in Raleigh. Visitors are welcome to sample brews with their pets. The Hop Yard has 28 rotating craft beer taps and also serves cider, wine, kombucha, and other beverages. It also has its own craft beer and wine retail store. Lonerider makes delicious beers for humans and has a large outdoor area built with dogs in mind. This brewery regularly holds canine events to raise money for dogs in local shelters. Finally, Crank Arm Brewing is a popular brewery that has always welcomed dogs inside and outside the tasting room.
Dog Parks and Trails in Raleigh
Raleigh is home to numerous dog-friendly parks and dog parks. They are strategically located throughout Raleigh, so owners never have to walk or drive too far to let their dogs socialize. The dog parks include Carolina Pines Community Dog Park, Millbrook Exchange Dog Park, Oakwood Dog Park, Hawthorne Bark Park, Buffaloe Road Dog Park, Jaycee Dog Run, and Dix Park Dog Park. Each park is an off-leash park and has water fountains for humans.
For those who prefer to go hiking with their pet, Raleigh has a handful of dog-friendly trails. Sal's Brand Trail is 2.75 miles long and takes 1.5 hours to complete. Inspiration Trail is much shorter at only 0.6 miles long. It takes roughly 20 minutes to walk the entire trail. The North Carolina Museum of Art has over 2.2 miles of trails around the hilly park. Dogs must be leashed at all times. Reedy Creek Trail is a longer 4.5-mile trail great for experienced hikers and trail dogs. Bikes are permitted on the trail, so owners should be aware of their surroundings at all times.
Swift Creek Bluffs Nature Preserve has many miles of marked and unmarked trails. It is a wonderful outdoor area to teach dogs how to walk on trails. There are water and beach spots throughout the preserve that dogs can swim in.
Dog-Friendly Restaurants in Raleigh
In Raleigh, there are over 245 dog-friendly restaurants. Reviewing each one here would take hours, so instead, enjoy learning about some of the more unique offerings.
The Flying Biscuit Cafe is well known for its Southern cuisine. Open for every meal of the day, pet owners can enjoy eating pancakes, po'boys, turkey hash, and more all day long. While the flying biscuit isn't, in fact, a dog biscuit, the waitstaff is happy to bring water bowls to the outdoor dog-friendly seating.
At Boxcar Bar + Arcade, well-behaved dogs are welcome to accompany owners indoors as they play games ranging from Dig Dug and Donkey Kong to Super Mario 64 and Mortal Kombat. In addition to the arcade and console games, guests can enjoy pinball machines and a selection of two dozen rotating American craft beers.
The summers in Raleigh can be quite brutal, which means a stop at Bruster's Real Ice Cream is a must. While owners get to choose from a wide range of delicious ice cream, dogs get their sundaes for free! Every dog sundae comes with dog bones.
For those who enjoy spending time at taverns, The Players Retreat is one of the most dog-friendly ones in Raleigh. It also happens to be the oldest. Opening its doors in 1951, The Players Retreat still serves the same menu of baby back ribs, sub sandwiches, beer-battered fish, and more.
Dog-Friendly Shopping in Raleigh
With the walkability of Raleigh, it makes complete sense to bring pups along on errands and shopping days. Fortunately, Raleigh has dog-friendly shopping options.
Saving Grace Supply Co. is pet-friendly, and all proceeds go to Saving Grace Animals for Adoption program. Owners can pick up homemade dog treats and other products for their canine and feline friends.
Great Outdoor Provision Co. always welcomes leashed, well-behaved dogs in its store. Owners looking for hiking gear, camping supplies, sporting goods, and more will enjoy perusing the store with their pets. Many of the products are the same as one would find in national brands but at a comparable or lesser cost.
Dog-Eared Books is a used book store that is very easy to spend hours inside. Dogs who enter the store with their owners must be housebroken and on a non-retractable leash. They must also be well-behaved and quiet to be respectful to other shoppers in the store.
The Cheshire Cat Antique Gallery is Raleigh's largest multi-dealer antique shop. It is also very welcoming of dogs. Visitors can browse through vintage and modern furniture, mid-century art, antiques, children's toys, collectibles, fine jewelry, and specialty pet items to find unique treasures.
Pet-Friendly Lodging in Raleigh
In Raleigh, there are over 50 pet-friendly lodging options. Whether one is planning a staycation or needs a place to stay while they visit from out of town, they are sure to find lodging in their preferred brand of hotels. A few notable options have been detailed below.
La Quinta Inn & Suites by Wyndham Raleigh Crabtree welcomes two pets of any size without an additional pet fee. Dogs and cats are permitted, but they must be leashed or in their carrier when they leave the room. Additionally, pets cannot be left unattended in the room. Furthermore, all guests with pets are placed on the ground floor to make relieving pets much simpler.
Ramada by Wyndham Raleigh welcomes guests and up to two pets for an additional $25 per stay. The pets cannot weigh more than 100 pounds combined. Both cats and dogs are welcome to stay, but they cannot be left unattended in the rooms. Treats are provided to pets upon check-in, and a grassy relief area is available for dogs.
Aloft Raleigh-Durham Airport Brier Creek offers guests a few options. One dog under 40 pounds is permitted at no additional charge. If the dog is over 40 pounds, the owner incurs a $100 pet fee for the stay. If the owner has two dogs of any size, they pay a $200 fee on top of the room charges. Unfortunately, cats are not permitted in this hotel.
Red Roof Inn Raleigh NCSU Convention Center allows pets to stay for free. Dogs and cats are allowed to stay, but they must always be with their owners. There is a pet relief area that dogs are welcome to use at the back of the property.
Discover the Paws-ibilities in Raleigh
It goes without saying that Raleigh is an incredibly dog-friendly city worth visiting. Dogs never have to be without their owners, and owners never have to worry about their dogs being lonely all day. Whether staying for a night or looking for a place to call home, Raleigh welcomes well-behaved canine companions throughout the city.