Most Affordable Neighborhoods in Raleigh: Raleigh, NC Affordable Living Guide
Posted by Katherin Burnette on Friday, February 26, 2021 at 10:30 AM
By Katherin Burnette / February 26, 2021
Comment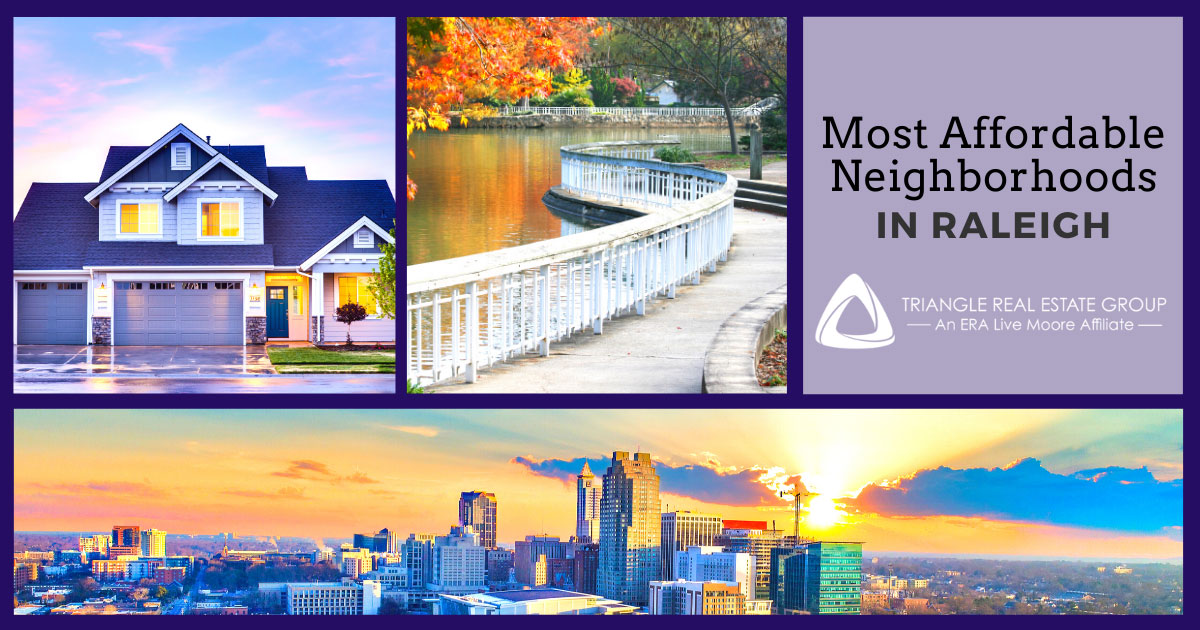 When choosing Raleigh as a new place to call home, residents will enjoy a variety of benefits beginning with the city being ranked as #1 in the U.S. and #2 in the world for its quality of life. The city is also a popular destination due to its location and proximity to Durham, Chapel Hill, and Cary. For entertainment and fun, Raleigh has plenty to offer, including scenic state and local parks, botanical gardens, hiking trails, shopping and dining venues, and a variety of museums. Moving to Raleigh means living life to the fullest each and every day, and the following affordable neighborhoods within the city are great places to call home.
Brier Creek
Brier Creek Amenities
Near Brier Creek Country Club
Interstates 540 and 40 are nearby
Convenient access to the Raleigh-Durham International Airport
Nearby schools include Brier Creek Elementary, Pine Hollow Middle School, and Leesville Road High School
For potential homeowners interested in affordable housing plus easy and convenient access to Raleigh and Durham, the Brier Creek neighborhood may be the ideal location. Once an area devoted to golf courses, it has become a fast-growing neighborhood in Wake County for anyone looking for a quality lifestyle near the Research Triangle, schools, and medical facilities.
Homes in the community include single-family residences and condominiums. Currently, prices range from $153,300 for a one-bedroom, one-bathroom condo and $495,000 and up for a split-level home with three bedrooms and two bathrooms. Homes may include traditional brick construction, brick and vinyl construction, single or double garages, hardwood floors, a fireplace, and updated kitchens.
Five Points
Five Points Amenities
Pedestrian-friendly sidewalks and streets
Close to the 1942 Rialto Theatre
Near Underwood Elementary, Daniels Middle School, and Broughton High School
Convenient access to businesses, restaurants, and attractions
Residents interested in living in a historic neighborhood will want to consider Five Points. Located near Whitaker Mill and Fairview roads and Glenwood Avenue, the vintage community is composed of several up-and-coming neighborhoods, making it a prime destination for those relocating to Raleigh.
Just two miles from downtown, residents can take advantage of the city's attractions while enjoying the ambiance and character of the 1920s community. Five Points is within close proximity to a variety of things to do such as parks, playgrounds, a farmers market, art galleries, antique shops, and more.
The types of homes that can be found in this neighborhood include single-family dwellings, cozy bungalows, and tri-level new construction homes. Prices range from the mid $300,000s to over $1 million. The median home value in Five Points is $516,550.
North Hills
North Hills Amenities
Across from the North Hills shopping area
Easy access to I-440
North Carolina State University is five miles away
Near North Hills Club for recreational activities
Uptown, upscale, and upbeat best describes the North Hills neighborhood comprised of luxury homes and apartments, high-end shopping venues, specialty boutiques, and fine dining restaurants. Residents have access to all that Raleigh has to offer in entertainment, fun activities, and historical destinations as well as a vibrant nightlife scene. However, that doesn't mean there aren't any affordable housing options in this lively neighborhood.
The community is conveniently located near the Beltline, shopping, live entertainment, parks, restaurants, and opportunities for runners, bikers, and dog walkers along the Greenway. It is also home to the Carolina Country Club.
Home styles include ranch, single-family detached, split-level, two-story, and luxury residences with three to five bedrooms and three bathrooms. Features may include a multi-car garage, fireplace, hardwood flooring, and a basement. Prices in North Hills generally range from $435,000 to $775,000.
Village District
Village District Amenities
Village District, recently renamed from Cameron Village, is a hidden gem when it comes to discovering homes at affordable prices. The neighborhood hosts single-family homes, condominiums, and ranch-style homes. Condominiums are predominant and have been part of the neighborhood landscape since 1949.
Residents enjoy a quiet and laid-back atmosphere in a suburban setting while still having access to cafés and restaurants, boutiques, the museum district, the Village District Library, and local business services. Schools servicing the area include Wiley Elementary, Daniels Middle School, and Needham Broughton High School.
Listing prices vary from $185,000 for a one-bedroom, one-bath home to $1,385,000. The median listing price for a home is $355,000.
Village District Hotspots
Historic Oakwood
Historic Oakwood Amenities
Easy access to downtown Raleigh
Close by historic Oakwood Cemetery
Tree-lined sidewalks
Step back in time when choosing a home in Historic Oakwood. Added to the National Register of Historic Places in 1974, this neighborhood is visually appealing with its many examples of Victorian homes. Potential residents will find that the community is filled with a variety of architectural styles that include Italianate, minimal traditional, colonial, Queen Anne, American Craftsman, and Second Empire dwellings on spacious lots.
Homes and lawns in this long-established neighborhood are well-maintained, with many having been restored to reflect their original design. Floor plans generally include three to four bedrooms with three to four bathrooms and square footage between 1,100 and 3,000. Current homes are listed from $415,000 to $985,000.
Along with vintage homes, there are also newly constructed homes built to blend with the historic vibe. With beautifully detailed homes, the community is within close proximity of dining, parks, shopping, and attractions.
Historic Oakwood Hotspots
Stonehenge
Stonehenge Amenities
Near Northern Wake Expressway.
Wildwood Green Golf Club minutes away.
Close to Seven Oaks Swim and Racquet Club.
Planned neighborhood events.
Close to North Raleigh and Midtown, Stonehenge offers residents a convenient location to access area activities and attractions. Its easy access to I-540 and I-440 make it an ideal community for those who will be commuting to work. Residents can visit several restaurants and shopping venues without ever using a car, and only have a short drive to downtown. For outdoor enthusiasts, biking and hiking offers scenic views at Umstead Park.
Stonehenge offers townhouses, single-family homes, and retirement communities. Buyers can find a wide variety in home styles from quaint to modern and sizes with two to four bedrooms and two to four bathrooms and square footage from 1,167 to 3,423. Prices for homes also vary, with current sale prices ranging from $225,000 to $450,000. The average sale price is $300,000.
Come Home to Raleigh
If relocating to Raleigh, there are many reasons why the move can be beneficial to new residents, starting with it being a top city in the U.S. Residents making the move to Raleigh can expect a quality lifestyle, an affordable cost of living, diverse work opportunities, world-class healthcare, and a bustling economy. Add to that a solid education system, plus college sports, a vibrant nightlife, and a vivid arts and culture scene. Living in Raleigh, residents also have access to scenic mountain trails for hiking, snow skiing in the winter, and catching some rays on a weekend getaway to the beach.