Most Expensive Neighborhoods in Raleigh: Raleigh, NC Luxury Living Guide
Posted by Katherin Burnette on Monday, March 29, 2021 at 3:09 PM
By Katherin Burnette / March 29, 2021
Comment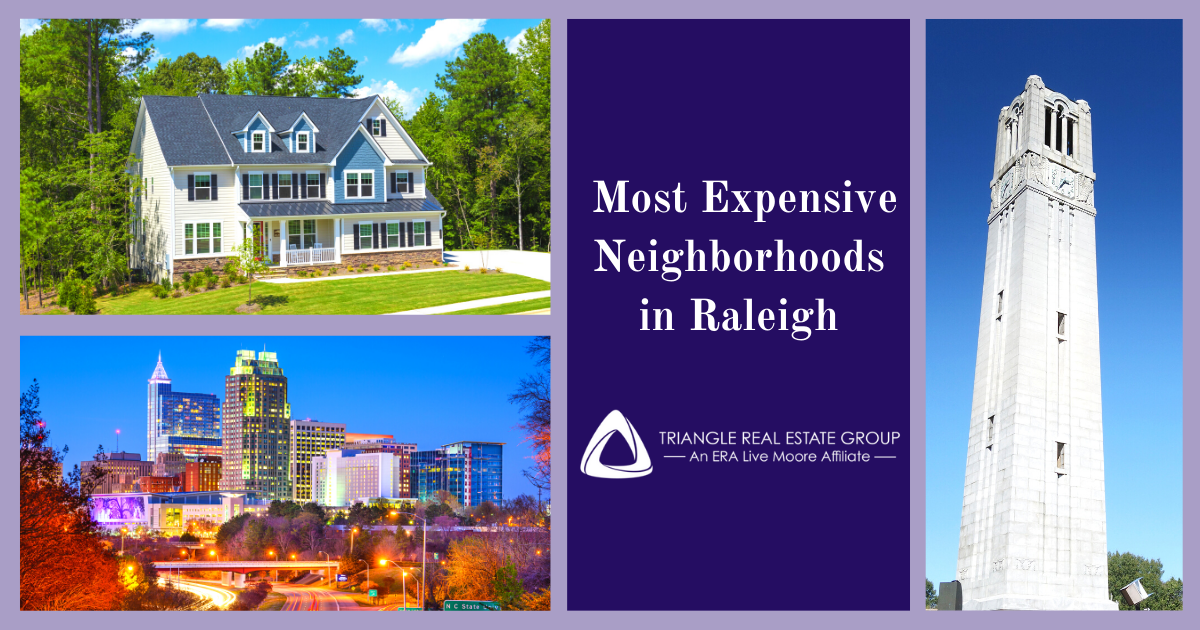 Raleigh, North Carolina, is the county seat of Wake County and serves as North Carolina's capital. It is recognized as one of the fastest-growing cities in the country and is home to about 1.5 million residents.
Raleigh is an early example of a planned city. It is named after Walter Raleigh, who founded the Roanoke Colony, now known as Dare County. The city is nicknamed "City of the Oaks" due to the stately oak trees that line its streets. Raleigh features over 8,100 acres of parkland. The city is home to North Carolina State University, which joins Chapel Hill and Durham to create the Research Triangle and bring many jobs to the area.
As the city has prospered, Raleigh has become home to many popular neighborhoods, with prices ranging from $150,000 to over $5 million. Prospective homeowners in Raleigh who are interested in purchasing a luxury home have several options, with communities that promise a number of high-end amenities and a lifestyle of luxury living.
Those planning a move to Raleigh have many communities to consider, including the following most expensive Raleigh neighborhoods.
Country Club Hills
Country Club Hills Amenities
Golf
Tennis
Swimming
Country clubhouse
Lake nearby
Country Club Hills is located northwest of downtown Raleigh, adjacent to the Carolina Country Club, which forms its boundary to the south. It can be easily accessed off Glenwood Avenue and is considered inside the beltline.
This neighborhood is known for its mature trees, spacious lots, and mix of architectural styles surrounding the Carolina Country Club and its scenic golf course. Smaller homes are mixed with new properties, and many of the homes feature a view of the golf course or nearby lake.
Country Club Hills Hotspots
Hayes Barton
Hayes Barton Amenities
Multiple parks
Historic district
Hayes Barton is a historic community located northwest of downtown Raleigh. It is at the heart of the Five Points district, with ready highway access.
Despite being just minutes from downtown Raleigh, the neighborhood is set apart from the bustling city center by its towering oak trees, flowering shrubbery, historic homes, and park-like setting. Typical home styles range from appealing cottages to rambling stone mansions. The neighborhood is bordered by St. Mary's Street, Williamson Drive, and Glenwood Avenue.
Landscape architect Earle Sumner Draper designed Hayes Barton to emulate a park-like environment. Far from a typical grid design, even the neighborhood's street layout follows the land's natural contours. The neighborhood includes several public parks and green spaces.
Hayes Barton is a mix of historic homes, businesses, and public parks, including 457 residential and commercial buildings spanning 1,750 acres. Hayes Barton was added to the National Register of Historic Places in 2002.
Falls Reserve
Falls Reserve Amenities
Lake
Water recreation
Scenic views
Nearby highway access
Falls Reserve is a new luxury development on Raleigh's north side, conveniently located off Durham Road. The neighborhood is near scenic Barton's Creek and Falls Lake. Residents have the opportunity to take advantage of the many water recreational options available, in addition to taking in scenic views.
Homesites typically range from one to two acres, with mostly wooded lots. A neighborhood hallmark is how each home's floor plan incorporates outdoor living space seamlessly with the surrounding scenic landscape. About nine builders are currently constructing luxury homes in this new subdivision, providing a wide variety of custom home floor plans.
The community is located within minutes of downtown Raleigh, Durham, and Wakefield, enabling residents to access business services, entertainment, dining, and shopping while maintaining a more private residential community.
North Ridge
North Ridge Amenities
Golf
Country club
Parks
Walking trails
Swimming
Lake recreation
Playgrounds
Tennis courts
North Ridge is a community of neighborhoods that surround North Ridge Country Club, located in North Raleigh. It is located about 10 miles from the Raleigh Durham International Airport, about 14 miles from Research Triangle Park, and 11 miles from North Carolina State University.
The community offers proximity to some of Raleigh's most popular recreational opportunities. Several city parks in or near North Ridge offer various amenities, including playgrounds, disc golf, tennis courts, athletic fields, trails, and water recreation.
Many of the homes in North Ridge have been completely renovated over the years. The focal point of the community is North Ridge Country Club and Golf Course. This members-only club spans 400 acres and includes two 18-hole courses. The clubhouse features 70,000 square feet of space and is available for special events.
Budleigh
Budleigh Amenities
Parks nearby
Golf nearby
Lake nearby
Located inside the beltline, not far from the city's center, Budleigh is an older Raleigh neighborhood known for its unique character. The neighborhood got underway in the 1920s, though there is still a limited amount of new construction. Most of the neighborhood's homes were built during the 1960s, with most of them renovated since then. Home sizes vary widely, from about 1,000 square feet up to 11,000.
Budleigh is known for its mature landscaping, sizable lots, and stately trees. Winding streets add to the neighborhood's character and quaintness. Residents enjoy easy access to downtown Raleigh's business services, museums, and restaurants. The neighborhood is also close to several parks, offering many amenities like athletic fields, walking trails, playgrounds, and tennis courts.
Budleigh residents are also close to shopping, with both North Hills Mall and Crabtree Valley Mall less than five miles away.
Chatsworth
Chatsworth Amenities
Swimming pool
Basketball court
Playground
Parks nearby
Lake nearby
Water recreation nearby
Chatsworth is a luxury home community located just over 14 miles north of downtown Raleigh. The subdivision is entirely residential, with the closest retail, restaurants, and business services in North Raleigh or Wakefield. Its expansive lots and custom homes distinguish the neighborhood. Most homes range from 6,000 to 8,000 square feet, with some as large as 15,000 square feet. Lots feature green space dotted with trees.
Situated just south of the Falls Lake State Recreation Area, the development is near 40 acres of protected land. Residents have ready access to the Falls Lake area, the Annie Louise Wilkerson MD Nature Preserve Park, and other parks and recreational areas.
Chatsworth offers its residents a swimming pool, playground, and basketball court. The neighborhood appeals to residents looking for a scenic homesite while still gaining access to shopping and dining only 15 minutes or less away.
Avalaire
Avalaire Amenities
Wooded lots
Trails
Scenic views
Highway access
Located off Durant Road and adjacent to Natural Greenway Trails, the Avalaire neighborhood is a newer North Raleigh subdivision focusing on preserving the natural countryside and providing residents with proximity to city amenities. The neighborhood has dedicated 25 percent of its land area to preserving natural resources, with oak trees of 200-plus years marking the community's entrance.
Residents enjoy the privacy of Avalaire's large, wooded homesites, comprised of up to two acres in size. About 10 home builders are involved in the neighborhood's development, offering prospective residents a wide selection of floor plans.
Avalaire features a park-like, countryside setting with scenic landscape views and winding trails. Additionally, residents have close access to the city's Natural Greenway Trails, which wind across Raleigh.
Devon
Devon Amenities
Lake nearby
Swimming pool
Tennis courts
Interstate access
Located in Northern Wake County, Devon features homesites of one to two acres. It is located about 15 miles from North Carolina State University and the Raleigh Durham International Airport.
Residents of Devon have access to a community swimming pool, tennis courts, and other recreational facilities, while outdoor enthusiasts can enjoy the 38 acres of Devon's natural landscape. It is just minutes away from scenic Falls Lake, offering boating, fishing, and other water recreation opportunities.
Residents can also enjoy shopping, with Interstate Highway 540 providing quick access to North Raleigh's primary shopping centers, including North Hills, Crabtree Valley Mall, and Triangle Town Center.
Call One of Raleigh's Luxury Neighborhoods Home Today
Raleigh is a lively city with a thriving business district, multiple retail centers, and a wide selection of restaurants. Additionally, the city offers more than 150 sites for its citizens and visitors to enjoy the outdoors. The city boasts more than 8,100 acres of parks, five public lakes, eight aquatic centers, and 78 miles of greenway. Residents can also enjoy miles of walking trails throughout the city.
Among Raleigh's most popular neighborhoods are several offering luxury homes and expansive lots. Many of these communities provide their residents with recreation opportunities with shopping and dining options nearby. These communities range from long-established neighborhoods in the heart of the city to new subdivisions in country settings.