Raleigh Cost of Living: Raleigh, NC Living Expenses Guide
Posted by Katherin Burnette on Friday, January 29, 2021 at 10:50 AM
By Katherin Burnette / January 29, 2021
Comment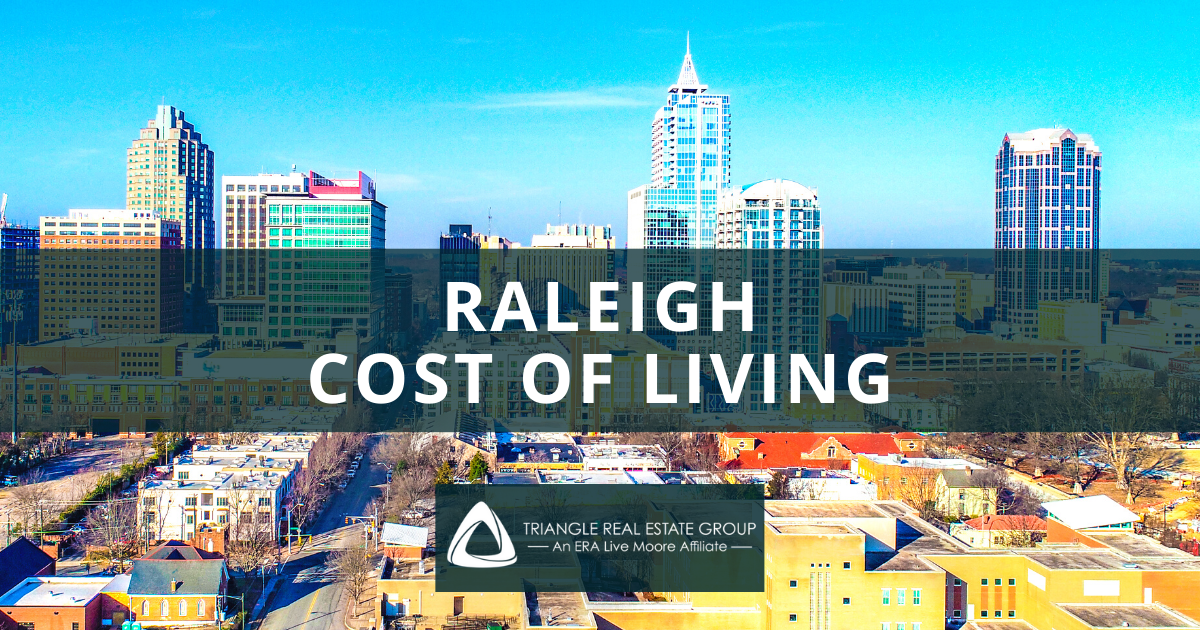 Raleigh, North Carolina, is one of the fastest-growing communities in the United States. The original Sir Raleigh established the mythical lost Roanoke Colony, but more people find the namesake city a great place to live each year. In 2010, Raleigh's population was just over 403,000. Ten years later, the population has reached more than 479,000 people, with 1.3 million residents in the metro area. Known as the City of Oaks, the warm weather and beautiful scenery make Raleigh a great place to visit and live.
Raleigh offers a generally competitive cost of living. Compared to the nationwide index, Raleigh is only 2.3 percent more expensive than the average U.S. community, meaning that most people relocating from other areas will find similar or cheaper prices.
The breakdown of Raleigh's cost of living demonstrates that most prices are below the national average. Food and groceries, utilities, and miscellaneous costs, for example, are all around the average for the nation. New residents relocating to the area can expect transportation and health care costs well below the average index. In fact, Raleigh's only cost of living that is significantly above average is housing, at 18.5 percent above the nationwide index.
What else goes into Raleigh's cost of living? Read on for a more detailed look at the numbers.
Table of Contents
Raleigh Housing Costs
Even Raleigh's higher cost of housing is comparable to other desirable communities throughout the United States. For example, the cost of housing in Chicago is slightly below the national average, but the total cost of living is higher. Additionally, seeking warm weather on the other side of the country would lead to much higher prices, as San Francisco has a cost of housing more than five times the national average. As the Mile High City, Denver is experiencing a similar level of population growth. However, relocating to Denver would mean encountering housing costs 84.3 percent higher than the national average.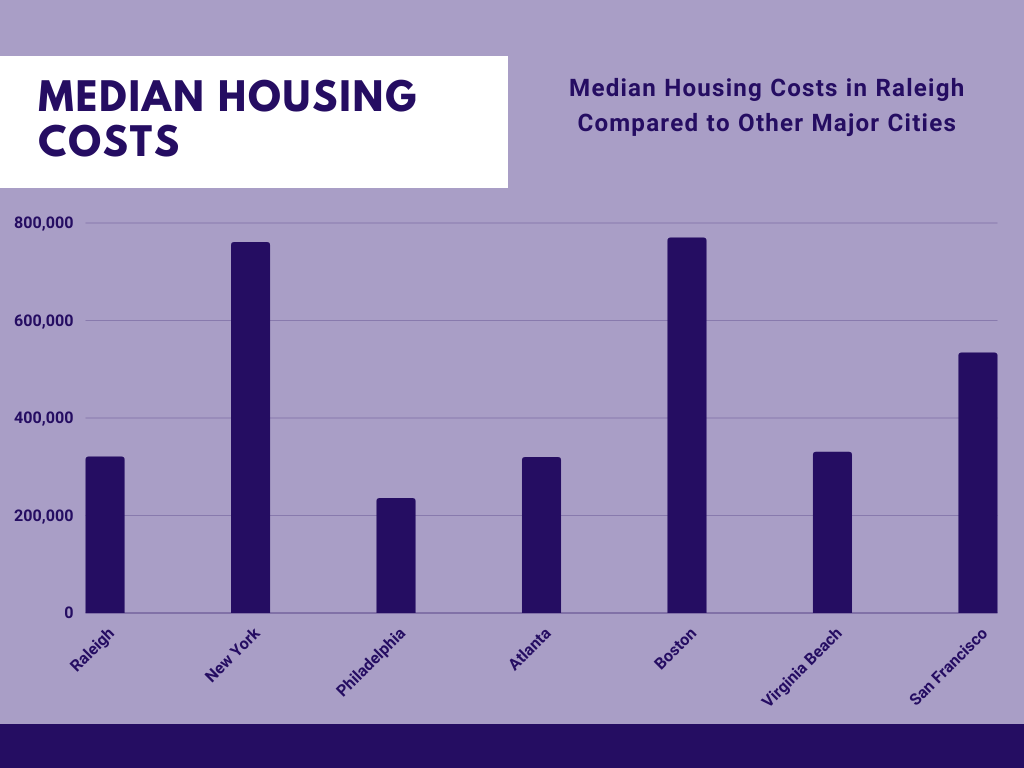 Median Home Price
The median home price in Raleigh is $273,000, with home prices appreciating 7.8 percent in the last year. However, new residents may find several neighborhoods with different median prices. Buying a home in the Six Forks Road and Ramblewood Drive neighborhood will cost around $956,000, making that community of luxury homes one of the most expensive in the state. Costs in the Glenwood Avenue and Pasquotank Drive area are also higher, with the median price at $877,000.
Also, at the higher end, median prices to purchase a home in the Oberlin Road and Glenwood Avenue community are around $849,000, while purchasing a home in the Ridge Road and Lake Boone Trail area will cost around $759,000. With a good mix of medium-sized homes and apartment complexes, homes around Glenwood Village will cost about $702,0000. A slightly lower purchasing price will net a great home in the Bayleaf area at about $686,000, or the Hillsborough Street and Oberlin Road area at $682,000.
Entering the more affordable communities, the Six Forks neighborhood has a median home price of around $673,000. On the more affordable end, homes located at Wade Avenue and Dixie Trail or Creedmore Road and Durham Road cost $647,000 and $623,000, respectively. Avera Place condos run a median list price of $165,000.
Median Rent
Near the top of the rental unit costs, Bayleaf and Creedmoor Road and Durham Road community renters pay about $1,924 per month. Monthly rents in Hillsborough Street and Oberlin Road and Six Forks are about $1,869 and $1,858, respectively. With many top-quality options, monthly rent in Glenwood Village is around $1,783. Rental prices within the Six Forks Road and Ramblewood Drive community are around $1,680 a month.
The average monthly rental price for the Oberlin Road and Glenwood Ave area is around $1,552. More than $200 cheaper, renting within the Ridge Road and Lake Boone Trail community costs approximately $1329 a month.
Utilities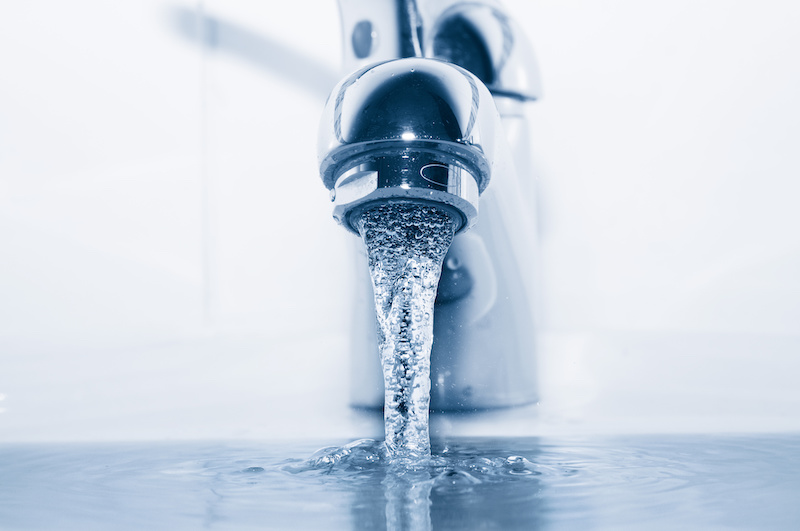 Understanding the cost paid to buy or rent a home is only part of one's research when relocating somewhere new. They also need to be informed about the utility costs associated with the location. Raleigh has a cost of living 5 percent lower than the rest of the country, but their utility costs are just 0.9 percent lower than the United States at large. This cost is fractionally lower than the rest of North Carolina, which sports a 99.2 compared to 99.1 in Raleigh.
Unlimited internet data plans cost around $57. Insurance costs for the community are very affordable, with the average home insurance for a $200,000 house costing about $773, which is much cheaper than the national average.
Raleigh Food Costs
Even while attempting to save money, most people find it necessary to eat out at least occasionally. Those watching costs understand the tricky balance between delicious and healthy food and spending too much on the experience. Budgeting their expenditures will allow people to enjoy themselves without breaking their bank.
Groceries
As much as people enjoy eating out at their favorite locations, preparing meals at home is one of the best ways to save money. It is also a good idea for people to select stores that reflect their budget. However, visiting the Sprouts or Midtown farmers market may provide a way to get fresh, healthy fruits and vegetables for lower seasonal prices.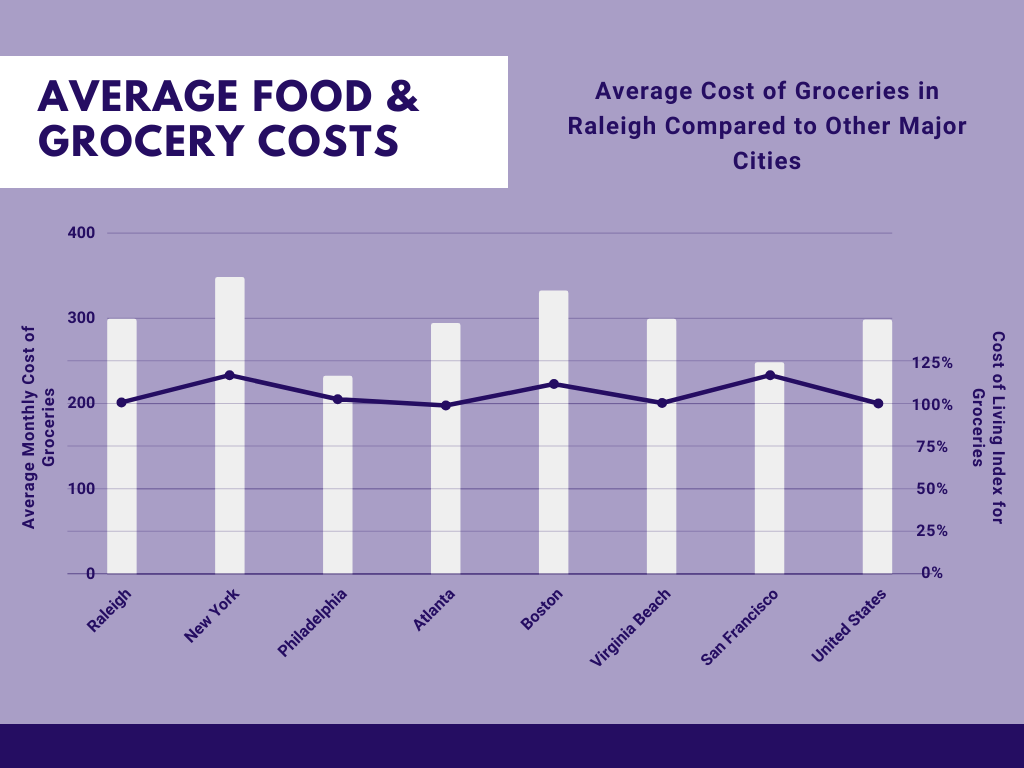 A staple in many households, a family pack of chicken wings will cost around $2.99 a pound in Raleigh. Opting for pork chops is a little cheaper at $2.79 a pound. Breakfast lovers will pay about $3.98 for a pound of thick-sliced bacon. Complementing the meat with a five-pound sack of white potatoes will cost $3.49. A gallon of whole milk is about $2.89.
Restaurants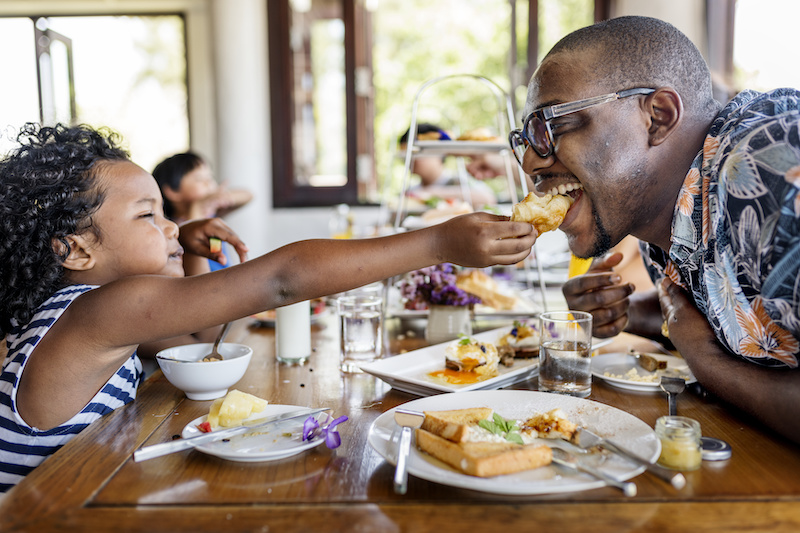 Grabbing a quick bite to eat at a fast-food restaurant in Raleigh will cost around $8. A more comfortable meal in a sit-down restaurant will cost almost twice as much at $15. Date night for a couple at a nice, midrange restaurant could cost around $60 for three courses.
A cheese Sicilian pizza at Venero's costs $14.50 for eight slices. Jumbo China offers a seafood delight option for about the same price. BBQ lovers can visit Daddy D's BBQ for a combination (two meat) plate with two sides and banana pudding for around $20.
Transportation Costs in Raleigh
Traveling in Raleigh offers several options. The GoRaleigh bus service offers a wide number of routes throughout the metro area. Seniors and youths under 18 ride free, although they may need to secure the appropriate GoRaleigh documentation. General fares are $1.25 for a single ride. Seven-day passes are available for $12, and unlimited day passes can be purchased for $2.50.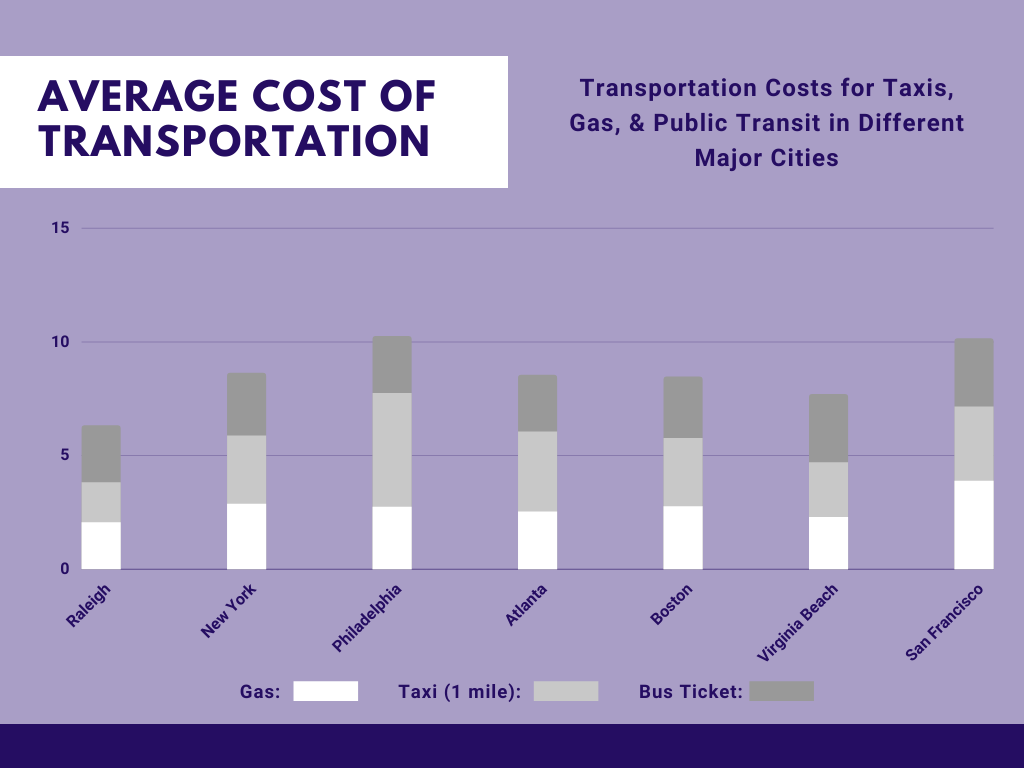 Those who prefer driving will find gas prices at just over $2 a gallon, with commute times at about 23 minutes. Car insurance rates range between $781 and more than $1800 per year for top-quality insurance.
Some other transportation options are available, including trains, taxis, and ridesharing. Riding the train from Raleigh to Charlotte would cost about $30 by Amtrak, while Greensboro to Raleigh would be about half as much. A train ride to New York City from Raleigh would cost about $126, creating the perfect weekend excursion.
Once in downtown Raleigh, the R-LINE provides a circulator to visit various points of interest at no cost. Another option is Citrix Cycle, which offers bike rentals in the downtown area at $2 for a 45-minute ride.
Raleigh Healthcare Costs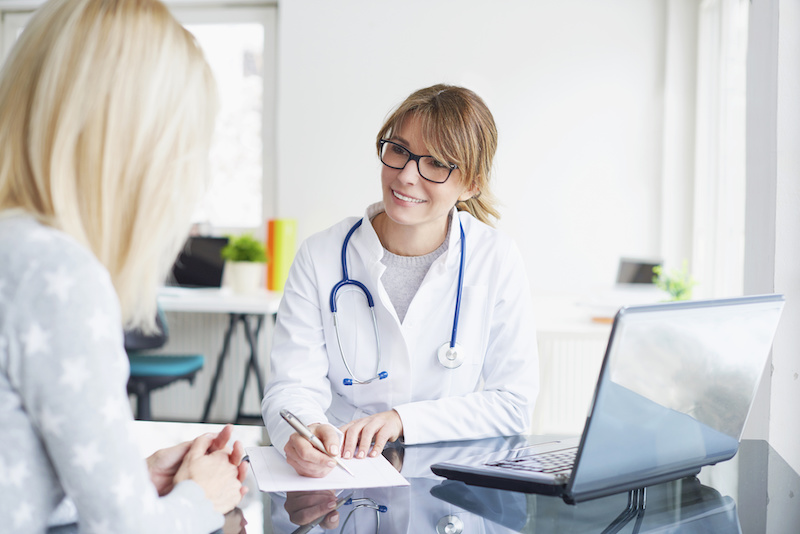 Medical care is another major cost for many people. According to the Health Care Cost Institute, the average annual per-person cost of healthcare in North Carolina is $8,230. Residents of Wake County, where Raleigh is located, spent less at about $7,303.
Pet care in Raleigh costs about $26 for a basic exam with house calls at about $49. Pet vaccinations begin at about $25, while neuter and spay operations range from $85 to $225. Bird owners will pay between $20 and $45 for wing, nail, and beak maintenance.
Child Care Costs in Raleigh
Child care costs are among a parent's biggest living expenses. On average, parents in North Carolina pay about $9,200 a year for daycare services. In Raleigh, parents pay an average cost of about $1,573 a month for full-time care.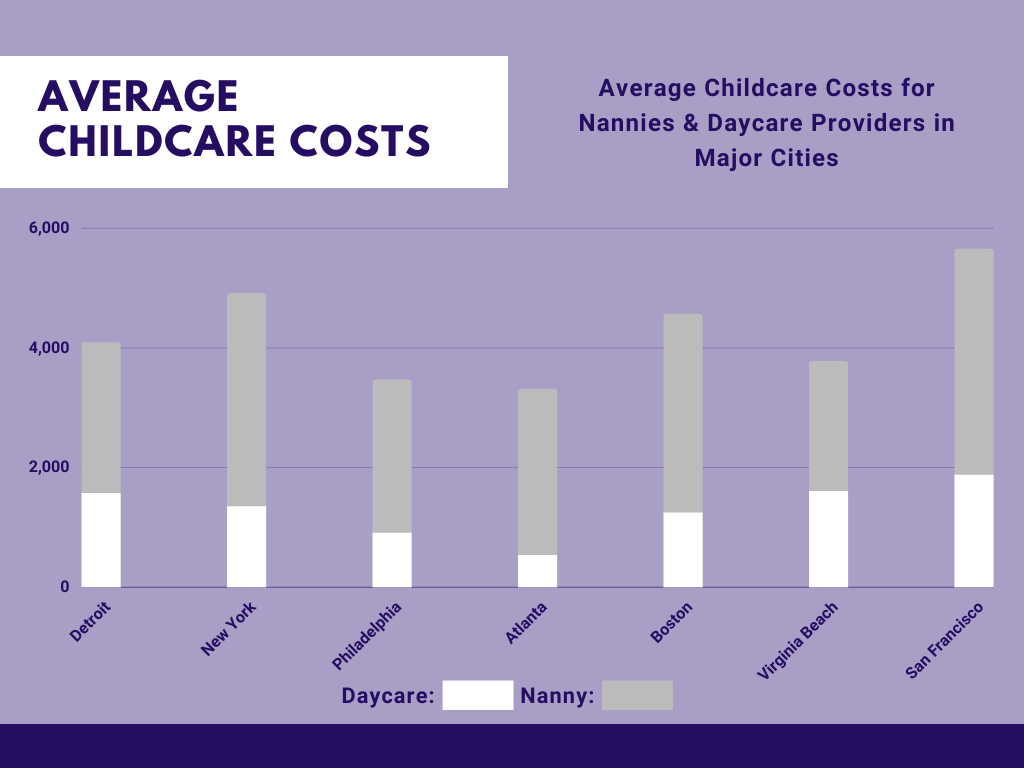 By contrast, hiring a nanny can cost between $10 and $20 per hour, which means a 10-hour care day would cost between $100 and $200. Hiring an at-home nanny at these rates would cost between $2,000 and $4,000 per month.
Raleigh Entertainment Costs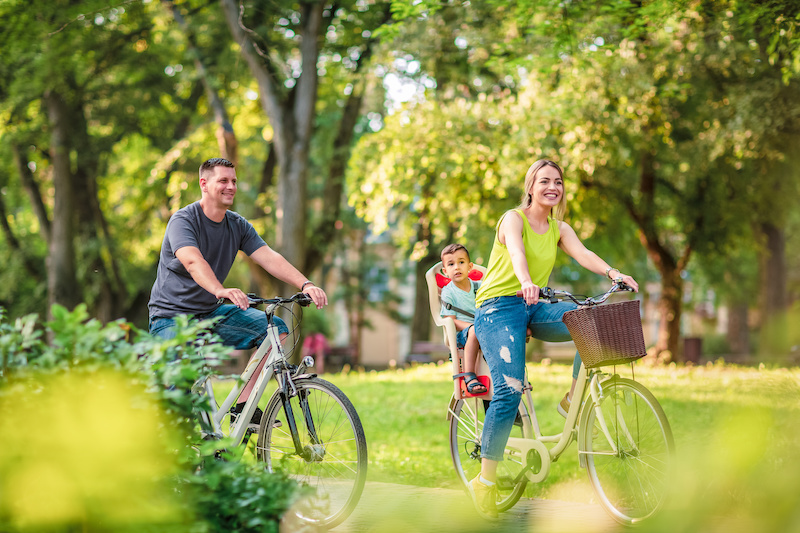 Life without entertainment would be pretty dull, which is why people need to research the entertainment scene in any community before relocation. As a fairly large city and major metropolitan area, most people will find activities they can enjoy in Raleigh.
Formal concert lovers can enjoy shows at the Duke Energy Center for the Performing Arts or North Carolina Symphony. Tickets at the Duke Energy Center can run from $25 for smaller artists to more than a hundred dollars. Symphony tickets are available for as little as $21. Arts and culture lovers may also enjoy the Carolina Ballet, where tickets can be as low as $20.
Sports fans will definitely enjoy the scene in North Carolina. The Charlotte Hornets are a professional basketball team that plays in the Spectrum Center. Ticket prices average around $74, but careful shoppers can find options in the single digits. The Carolina Panthers are a professional football team that plays out of Charlotte. Tickets for these games average about $84, with deals as low as $53.
For everyday nightlife, the community has a wide variety of bars and dance clubs. Boxcar Bar and Arcade in downtown Raleigh has more than 100 games, from classic arcade favorites to modern varieties. There is no cover charge, and gaming consoles can be rented for free. Most games cost 50 cents or fewer. Those who prefer to dance may love the 440 Nightclub. Some nights are free, but special events can start at about $20.
There are also plenty of ways to enjoy the great outdoors in Raleigh. The Lonnie Poole Golf Course provides a challenge of shooting for par at $65 a day, including the cart. Golfers can save more than $20 if they don't mind walking the course. Outdoor enthusiasts can always save money by visiting the city's many parks and trails for free.
Raleigh Salary
The average salary in Raleigh is about $58,000 per year. The median household income is about $66,000 per year, with one-year growth of about 1.6 percent.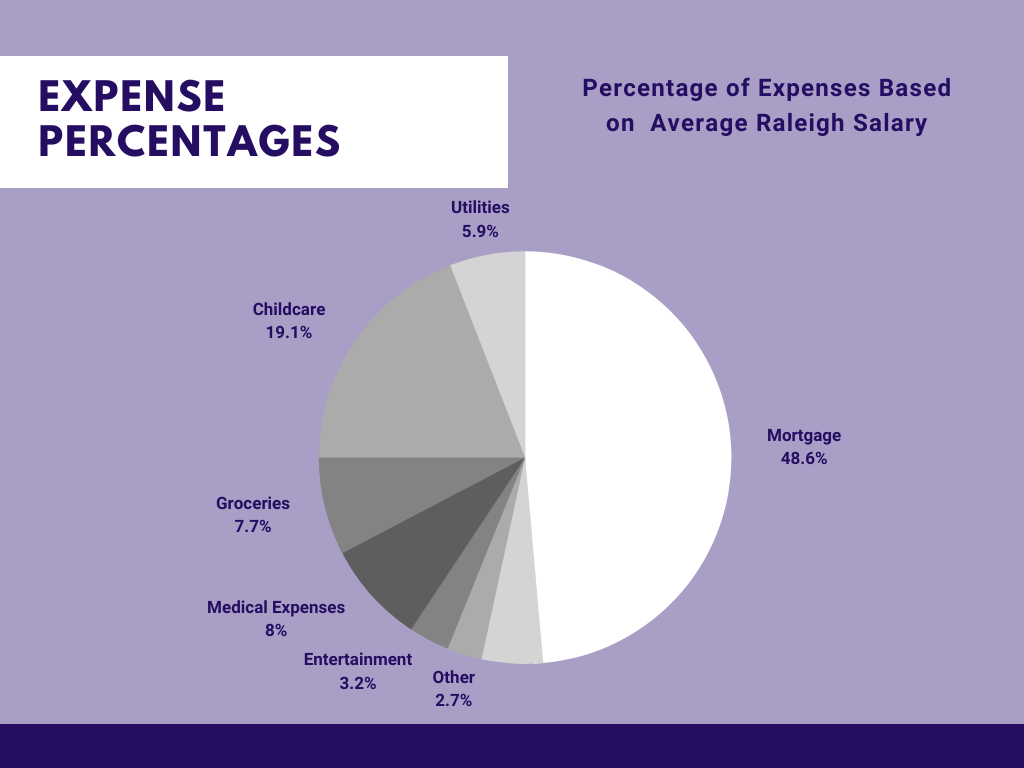 The highest-paying jobs in the area relate to natural resources careers like agriculture, forestry, fishing, and hunting. These salaries can range from approximately $87,000 to $97,000. However, the largest industries in the area are professional, scientific, and technical services, as they employ almost 41,000 people total.
The minimum wage in Raleigh is $7.25 per hour.
The unemployment rate for the previous two years in Raleigh ranged between 3.1 and 3.9 percent. The national unemployment rate for the same period was around the same range.
Find Your Home in Raleigh
Overall, Raleigh, North Carolina, is a healthy economy. The cost of living, unemployment numbers, and salaries are around or better than the averages for the nation. However, unlike many other communities, the city is experiencing a population growth that creates new opportunities.