Raleigh Economy: Top Industries, Employers, & Business Opportunities
Posted by Katherin Burnette on Monday, April 19, 2021 at 7:45 AM
By Katherin Burnette / April 19, 2021
Comment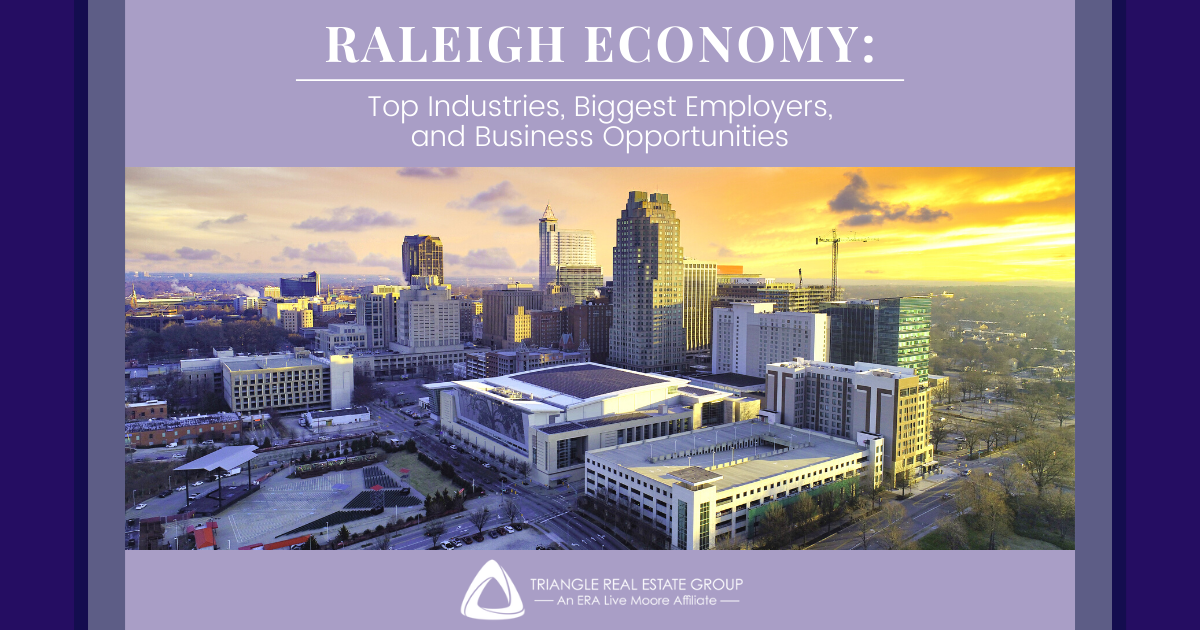 Raleigh, North Carolina, has a 2019 population estimate of about 474,069, representing a growth of more than 70,000 people in the last ten years. The metropolitan area has around 1.3 million people, making it the 44th largest community in the country.
Known as the "City of Oaks," even the modern community has huge oak trees lining many streets. From certain angles, these trees can partially hide one of the fastest-growing cities in the U.S. from view. The oldest trees may have been Raleigh residents for over 100 years.
While it is true that thousands of new residents relocate each year, potential movers should research before making the transition. Here are a few things to understand about the economy and opportunities that new residents may find in Raleigh.
Raleigh Industries
Those not familiar with Raleigh may be surprised by the number of modern industries thriving. The rush of technology and research jobs is directly the result of a push to develop new industries a few decades ago. Between 1990 and 2002, more than 270 new industries arrived in Wake County, bringing more than 16,000 new positions. Additionally, 400 industries were able to expand during the same period, bringing another 31,810 jobs.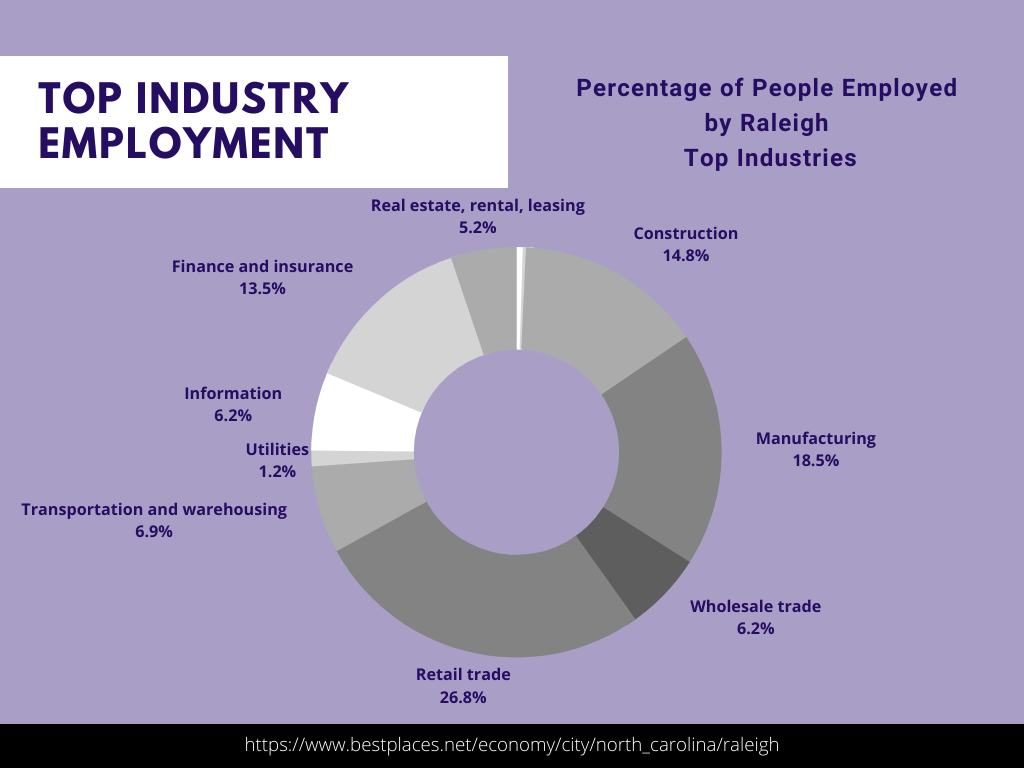 Overall, the three largest industries in the area are government, healthcare, and education. Potential new residents may find job opportunities with established companies or as contractors or suppliers to existing enterprises.
One of the newer industries in Raleigh is related to green technologies in energy and water. The community hosts dozens of companies dedicated to researching and developing renewable energy technologies or methods to increase energy efficiency. Other companies are focused on products related to transportation and maintaining a clean water supply. With thousands of employees and millions of dollars spent each year, this community will be a hub of new technologies for years to come.
As part of the drive toward developing more modern industries, the area also became host to several advanced manufacturing companies. Thanks to the proximity and working relationship with local research universities, Raleigh is also becoming a cluster for high-level production companies. These enterprises seek to leverage the skilled workforce and multi-method transportation opportunities to gain an edge on globally competitive manufacturing.
Another popular industry is life sciences, with greater than 63,000 workers within the state. More than 400 companies operate in and around Raleigh, providing jobs that average around $80,000 annually. Going far beyond the traditional doctor-patient relationship, the modern life sciences field seeks to find ways to leverage technology advances to improve people's everyday lives.
Another primary industry in the area is related to software. Raleigh recently ranked number four in the country for the largest concentration of job openings in technology, placing the community right behind publicly known tech havens like San Francisco and Seattle. Companies like software mogul SAS and open-source leader Red Hat are leading the local charge, with dozens of smaller companies carving a path.
Top Industries in Raleigh
Manufacturing
Trade, Transportation, and Utilities
Information
Finance
Professional and Business Services
Education and Health Services
Government
Top Employers in Raleigh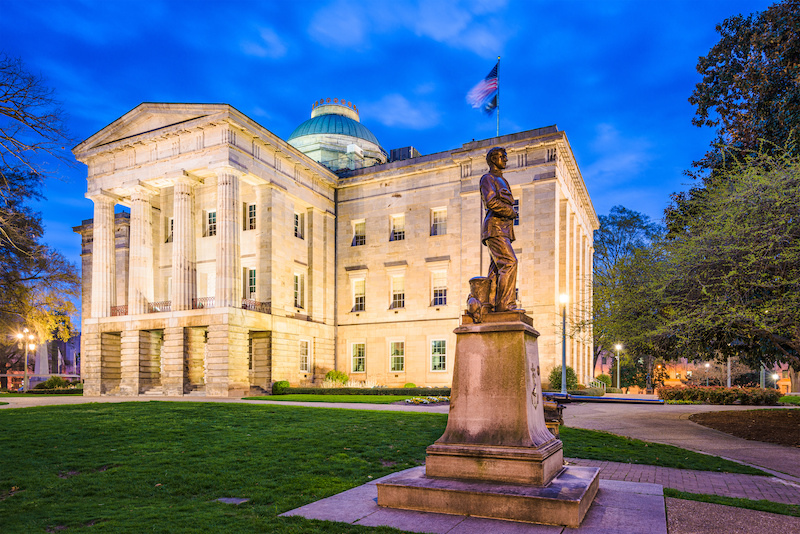 In addition to understanding the largest industries, the top employers within the community can provide insight into the economic character. Large employers can influence a city through policy advocacy and leaking the company culture into the surrounding spaces. The largest employers within Raleigh have certainly placed their stamp on the town.
With nearly 38,600 employees, Duke University and Health System is currently the city's top employer. This number includes the school itself and institutes related to medical research, clinical research, and global health.
The State of North Carolina is next with just over 24,000 staff. These professionals service the four international airports and two seaports and provide traditional government services found across the country. Wake County Public School System follows with about 19,537 employees. With approximately 10,400 teachers at 191 schools, they provide public education for pre-school through high school.
Rounding out the top five largest employers are two well-known companies. With around 16,000 on staff, Walmart is the fourth largest provider of jobs in Raleigh. Focusing on frontier technologies like AI and cloud infrastructures, IBM Corporation employs 10,000 in the community.
Although these organizations are the largest, there are many other opportunities to be found. Other universities, hospitals, retailers, and software companies each provide thousands of jobs to the local economy.
Additional Large Companies in City
University of North Carolina at Chapel Hill
WakeMed Health & Hospitals
North Carolina University
Food Lion
Target
UNC Rex Healthcare System
Raleigh Economy Facts and Figures
Raleigh's general economy is strong, with industries like government, education, and life sciences being relatively resistant to economic swings. The community's unemployment rate is slightly higher than the U.S. rate at 4 percent vs. 3.7 percent. Over the next decade, however, jobs are projected to grow around 44.2 percent, which is larger than the U.S. expectation of 33.5 percent.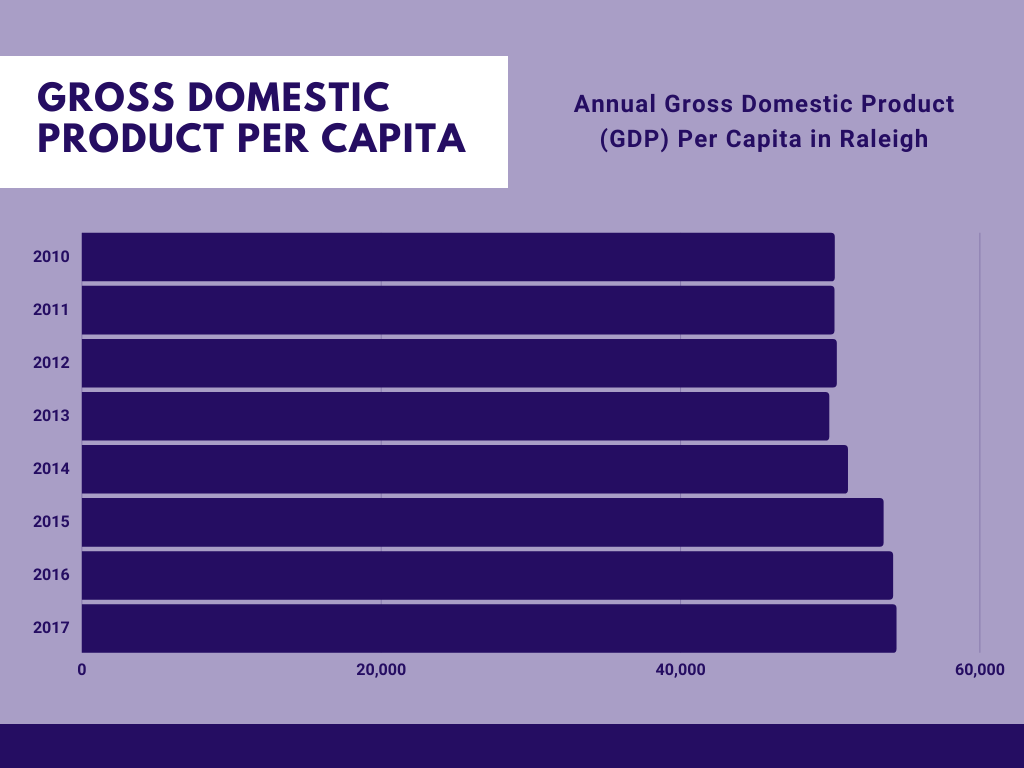 Raleigh's average income is $31,169, a little higher than the U.S. average of $28,555, while the cost of living is about the same for both. The average commute for residents is three minutes shorter than the national average of 26.4 minutes.
Getting The Full Picture of Raleigh
While it is essential to understand any community's economy before deciding to move, examining the economic data is just one part of the puzzle. Each city has character, and many people find that amenities, climate, and other factors are also important to them. Fortunately, Raleigh, North Carolina, provides a great mix of opportunity, affordable neighborhoods, and beautiful scenery that seems to please most new residents, whether they live on the waterfront, in historic townhomes, or new constructions shaded by old oaks. After all, 70,000 new people in a decade can't all be wrong.