Public Transportation in Raleigh: Raleigh, NC Public Transit Guide
Posted by Katherin Burnette on Tuesday, April 27, 2021 at 12:29 PM
By Katherin Burnette / April 27, 2021
Comment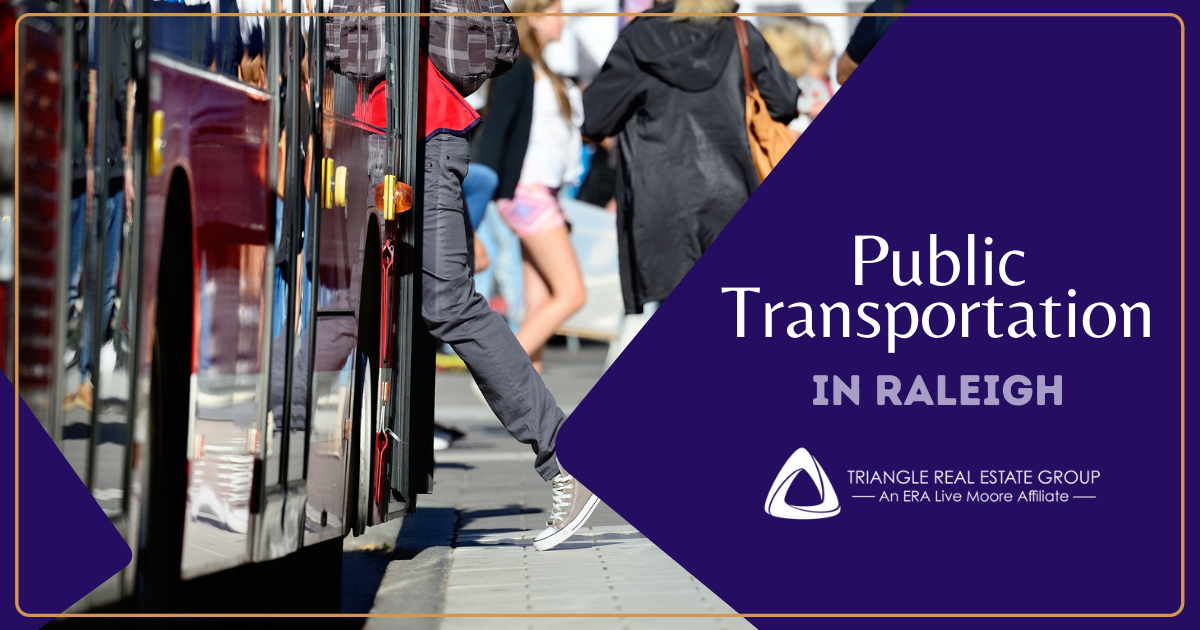 The Raleigh metropolitan statistical area (MSA) is the second-fastest-growing one in the United States, increasing approximately 23 percent in population size alone from 2010 through 2019. As a result, there have been additions in everything from infrastructure to jobs. With the local growth comes a need for effective ways to get around. Fortunately, opportunity growth in Raleigh has also been accompanied by expanded means of public transportation. Read on to learn more about Raleigh's public transportation systems.
GoRaleigh
GoRaleigh is the leading public transportation provider in Raleigh, with 27 standard routes and five specialized regional routes. The "L" and "X" are GoRaleigh's central routes that service an area inside as well as adjacent to I-440. There is also an R-Line, which runs free circulatory bus services every 15 minutes throughout downtown Raleigh.
Another core element of the GoRaleigh offering is the intercity lines. GoCary and GoDurham run from downtown Cary and downtown Durham respectively, connecting both cities to Raleigh. The GoTriangle service takes this a step further, connecting Raleigh with local towns and suburbs and Raleigh-Durham International Airport, and the Research Triangle Park campus.
GoRaleigh offers two specialty services. One is the Wolfline, a bus line primarily intended to serve students and staff affiliated with North Carolina State University. The other is the Pepsi Caniac Coach, resulting from a partnership with Pepsi, serving individuals who order Pepsi products at participating local restaurants as a transport to PNC Arena during Carolina Hurricanes game days.
GoRaleigh Ticket Costs
$1.25 for a single ride
$0.60 for a single ride discount fare
Free for ages 65+ and 13-18 (with a GoRaleigh ID or Youth GoPass) and ages 12 and below
GoRaleigh Pass Costs
$2.50 for a day pass ($1.25 discount fare)
$12 for a seven-day pass ($6 discount fare)
$40 for a 31-day pass ($20 discount fare)
Regional and Express Passes available to include routes outside of Raleigh
R-Line
To meet the growing local demands of visitors and residents alike, Raleigh has diligently expanded its public transportation options. Instead of being limited exclusively to private vehicles or paid bus lines, local officials have extended the free circulator services that safely connect local points of interest.
Raleigh has not settled just for solutions that reduce the number of vehicles on the road; environmental sustainability has also been a priority. The R-Line, which conveniently runs every 15 minutes, uses eco-friendly vehicles to perform its circulatory functions. These hybrid electric buses rely on compressed natural gas, and their practically zero emissions radically minimize their footprint.
The R-Line connects several key points of interest in the central business district of downtown Raleigh. These stops include the Raleigh Convention Center, the Performing Arts Center, the Raleigh Union Station, and several major intersections along the way. Riders may check the R-Line website to receive up-to-date details on real-time arrival times.
The R-Line runs every day of the year except for Thanksgiving Day and Christmas Day. On other major holidays, including New Year's Day, MLK Day, Memorial Day, Fourth of July, and Labor Day, the R-Line operates on a weekend service schedule.
GoRaleigh Access
Raleigh has made tremendous strides in expanding its public transportation options to meet its residents' and visitors' needs. Besides multiple routes that connect destinations throughout the city, some offerings connect local cities to Raleigh. There are various free circulator options connecting popular landmarks and destinations to promote the local economy.
Although Raleigh public transportation is wheelchair-accessible, sometimes it cannot adequately meet a passenger's needs. GoRaleigh Access is intended to help.
GoRaleigh Access provides extended paratransit support to approved applicants, including curb-to-curb bus service and even door-to-door service when requested — as long as the stop provided is within three-quarters of a mile from an existing fixed-route stop.
To become a user of GoRaleigh Access, applicants must fill out a two-part application. While individuals fill out the first part for themselves, the second part requires a formal assessment by either a licensed healthcare provider or a human services agency professional. Pending approval, the transportation service may be put into place by users. From then on, individuals may request rides at least 24 hours in advance; this request may be made using a special online form, email, or phone call.
GoRaleigh Access Ticket Costs
$2.50 single ride (with GoRaleigh Access ID)
Ridesharing in Raleigh
As the local economic scene continues to flourish, it draws traffic and attention to the area. Raleigh Durham International Airport (RDU) in Raleigh is the primary airport servicing the region. Amtrak also brings in a mix of visitors for both business and pleasure. Rideshares can help transport these people while they are in town, in addition to residents who might need drivers to pick them up from late-night activities or rides to and from appointments.
Since 2010, the number of ridesharing apps available in the Raleigh area has increased, in addition to their scope of coverage. Uber and Lyft are the predominant services available, but other contenders have joined the mix.
Uber has several tiers of service available, starting with UberX and UberPool for the budget-conscious. UberXL is available in most local areas to accommodate larger groups of people. Uber Green supports sustainability by providing rides in electric vehicles.
Lyft is an alternative to Uber and the default option for the standard individual ride. Lyft XL, much like UberXL, provides a six-seat vehicle that holds more people or offers more cargo space. Lyft Lux is the premium rideshare, offering luxury vehicles.
While these two apps are two of the country's biggest, other contenders have come and gone; it has proven difficult for alternatives like Carmel and Talixo to stay. Curb has been the Uber and Lyft alternative that has fared the best, providing service to the Triangle area.
Additionally, Enterprise Rideshare has come about to provide an effective local vanpool program. An ongoing network of vanpools is in existence, and users can access them through 1-800-VAN-4-WORK. Or, individuals may request to start new ones.
Raleigh Is Going Places—And You Can, Too
Raleigh continues to rank high in lists of places to work and live, and the growth that comes with such high public regard will not stop anytime soon. The Triangle area faces booming economic vitality alongside entrepreneurial growth, academic renown, and cultural achievement. While there are plenty of reasons to visit or live here, a wide array of ways to get around also exists. Whether you live on the waterfront in a luxury neighborhood or reside in a Raleigh condo somewhere more affordable, one of Raleigh's public transit options can get you where you need to go.