Things to Do in Raleigh: Raleigh, NC Places to Go and Things to Do
Posted by Katherin Burnette on Wednesday, March 31, 2021 at 3:23 PM
By Katherin Burnette / March 31, 2021
Comment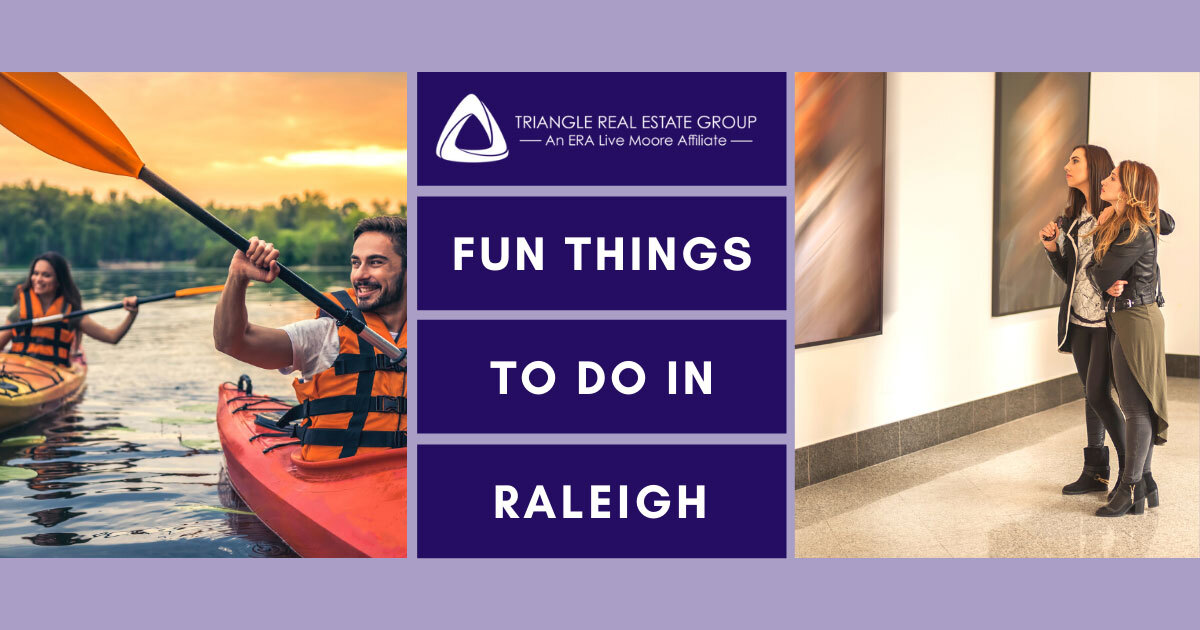 The Raleigh, Durham, and Chapel Hill area in North Carolina is known as the Research Triangle. The area is home to three well-known research universities — Duke, the University of North Carolina at Chapel Hill, and North Carolina State University. Raleigh has drawn more than 7,000 companies, including biotechnology and pharmaceutical firms.
But it's not all work and no play in Raleigh. Its residents enjoy a lively nightlife scene and excellent opportunities for outdoor activities. Current residents or those planning a move to the area can explore the following guide for things to do in Raleigh, North Carolina.
Raleigh Outdoor Adventures
Raleigh Outdoor Attractions
Dorothea Dix Park
William B. Umstead State Park
Neuse River Canoe Trail
Buffaloe Road Aquatic Center
Pullen Aquatic Center
Raleigh offers its residents an excellent quality of life, including access to many parks, bodies of water, and hiking and biking trails. Known as the "City of Oaks," Raleigh has a tall reputation to live up to when providing outdoor recreation to residents and visitors, and that's a standard it exceeds with flying colors.
With so many beautiful locations to visit outdoors, who wouldn't want to spend a day out in one of these great Raleigh attractions?
Parks
It's not surprising that a city that bears the nickname "City of Oaks" would be filled with beautiful parks and green spaces. Raleigh's residents, in fact, have more than 200 parks to choose from, including nature preserves, historic properties, and playgrounds.
At 308 acres, Dorothea Dix Park is Raleigh's largest city park. It offers visitors wide-open fields, walking trails, and a dog park. Raleigh is also home to William B. Umstead State Park. This 5,439-acre park features three human-made lakes and a trail network, including 13 for multi-use and 20 for hikers.
Water Recreation
Raleigh boasts almost 1,300 acres of water, including lakes, rivers, streams, and ponds. Popular water activities in Raleigh include boating, fishing, kayaking, and stand-up paddleboarding.
Some lakes, including Wheeler and Johnson, have kayaks, boats, and boards for rent. Adventurous souls may want to try paddling down the 250-mile Neuse River Canoe Trail, which stretches from North Raleigh to the Pamlico Sound.
Raleigh also has facilities for those who prefer to enjoy their aquatics indoors. Buffaloe Road Aquatic Center has lap lanes, a kid's area, a three-story waterslide, and a lazy river. There is also Pullen Aquatic Center, which has lap lanes and a warm water therapy pool.
Hiking & Biking Trails
Bikers and hikers can explore a variety of trails in Raleigh. There's the approximately six-mile Art to Heart Trail, which connects the North Carolina Museum of Art to downtown Raleigh and travels through the museum's 164-acre park. This trail is part of the East Coast Greenway, which will one day extend 2,900 miles from Canada to Key West.
The Neuse River Greenway Trail is another good option for runners, walkers, and bikers. This 27.5-mile trail runs alongside the Neuse River and extends from Falls Lake to southeast Raleigh. Additionally, Raleigh's many parks are laced with miles of trails.
Raleigh is an excellent place to live for lovers of the great outdoors. Besides the many beautiful recreational activities available in the city itself, Raleigh residents are also within relatively easy driving distance to the sea and the state's mountains. For instance, Raleigh is just about two hours from Wrightsville and other beaches. It is also just over three hours away from the Blue Ridge Parkway that carves through the state's beautiful mountains.
Raleigh Shopping
Raleigh Shopping Locations
North Hills
Brier Creek Commons
Crabtree Valley Mall
Triangle Town Center
Raleigh has no shortage of great places to go shopping. Its downtown area, for instance, is home to charming shops and boutiques selling beautiful clothing, locally made crafts, gourmet foods, and unique decor.
The North Hills area is another option for shoppers. Located in midtown Raleigh, this open-air shopping center is home to many well-known chain stores such as REI, Anthropologie, and Plow and Hearth. Shoppers can also head to Brier Creek Commons, which offers more than 75 stores and eateries, including Dick's Sporting Goods and TJ Maxx.
For those who prefer shopping indoors and out of the elements, there is Crabtree Valley Mall. Crabtree Valley is the largest enclosed mall in Raleigh and one of the largest in the Southeast, with approximately 200 stores. Another indoor option is the Triangle Town Center, which has the only Saks Fifth Avenue in North Carolina and South Carolina.
Raleigh Restaurants
Raleigh Restaurant Attractions
Raleigh's Village District
Five Ashley Christensen restaurants
Morgan Street Food Hall
Transfer Co. Food Hall
Raleigh has many fantastic dining options, and several of its chefs have been nominated and/or won prestigious James Beard Awards.
Foodies can start their search for a good meal in Raleigh's Village District. When this neighborhood opened in 1949, it was considered the first shopping center between Washington, D.C. and Atlanta. Today, this neighborhood is dotted with many dining options, ranging from fast food to trendy eateries. Additionally, visitors and residents alike need to dine in at least one of the five restaurants owned by Ashley Christensen.
The popular food hall trend has also found a home in Raleigh. Foodies can try out what's new and tasty at the 22,000-square-foot Morgan Street Food Hall or the 43,000-square-foot Transfer Co. Food Hall, both of which are located in the downtown area.
Raleigh's Arts and Culture Scene
Raleigh Arts and Culture Attractions
North Carolina Museum of Natural Sciences
North Carolina Museum of History
Marbles Kids Museum
North Carolina Museum of Art
Raleigh Little Theatre
Raleigh's arts and culture scene is truly rocking, with museums, art galleries, and dance and theater venues located throughout the city.
Residents and visitors could start a day touring one of Raleigh's many museums, soaking in Raleigh's history or learning more about science, and entertaining kids at the children's museum or the natural history museum. Catch a matinee showing at one of Raleigh's many theaters after the fact, and wrap up the day by hitting the town and enjoying Raleigh's vibrant nightlife.
Museums
It's not surprising that a city located in the Research Triangle would be home to many museums. Raleigh, in fact, has so many that it has earned the nickname the "Smithsonian of the South." One of its best-known museums, the North Carolina Museum of Natural Sciences, is actually an affiliate of the Smithsonian Institution. It offers four floors of exhibits and is the largest natural history museum in the southeast.
Those interested in learning about the state's interesting and rich past will want to check out the North Carolina Museum of History, which is home to approximately 150,000 artifacts. There is also an abundance of smaller specialized museums, including the Marbles Kids Museum.
Arts & Galleries
Raleigh enjoys a thriving arts scene. It is home to two excellent art museums: the North Carolina Museum of Art and the Contemporary Art Museum (CAM) Raleigh. Additionally, galleries and art shows are found throughout the city. One of Raleigh's more artsy neighborhoods is Boylan Heights, located close to the city's downtown area and known for its art galleries, studios, and video production firms. Boylan Heights is also the site of the popular ArtWalk event, which has been a December tradition since 1992.
The Warehouse District, which consists of six blocks of red-brick industrial buildings, is another artsy neighborhood in Raleigh. This is where the Visual Arts Exchange—a 4,000-square-foot nonprofit art gallery—is located.
Dance & Theater
Being a capital city has its perks, as it is typically where one will find a state's major cultural venues. Raleigh is home to several important performing arts groups as a capital city, including the North Carolina Symphony, the Carolina Ballet Company, the North Carolina Theatre, and the North Carolina Opera.
Raleigh also has several performing arts centers. Its Duke Energy Center contains five venues, including the 600-seat Fletcher Opera Theater, the Kennedy Theater, and the Memorial Auditorium. The city is also home to the Raleigh Little Theatre, which typically puts on ten productions a year.
Raleigh's residents are fortunate to live in a city rich in cultural and artistic offerings. These are the type of things that can truly elevate a city.
Raleigh Nightlife
Raleigh Nightlife Attractions
The Green Light
Foundation
Raleigh Beer Garden
Boxcar Bar & Arcade
Red Hat Amphitheater
With five entertainment districts, Raleigh is the perfect playground for those who take their nightlife activities seriously. The Glenwood South district is a favorite with locals and is home to several trendy spots such as The Green Light. This speakeasy-style bar is located in the Architect Bar & Social House, and it can only be accessed through a door hidden behind a bookcase.
There is also the Fayetteville Street District. This popular Raleigh neighborhood is home to more than 50 restaurants and bars, including Foundation, known for its talented mixologists and handcrafted libations.
Raleigh Beer Garden is located in the Glenwood South District. This venue proudly offers more than 350 beers on tap and is certified by Guinness World Records as having the world's largest beer selection. Another popular bar in the Glenwood South District is Still Life.
For those who prefer to play fun games, there is Boxcar Bar & Arcade. This venue, located in the Warehouse District, features a full bar and new and retro arcade games.
Raleigh also has more than 80 music venues. One of the most popular is the Red Hat Amphitheater, an outdoor concert venue in downtown Raleigh. This venue has featured some of the most popular musical acts in the country.
Enjoy Year-Round Fun in Raleigh
Raleigh has a lot to offer prospective homeowners. From luxury homes to waterfront properties in various neighborhoods, new residents have many options to call home. At the same time, they can enjoy Raleigh's activities at any time of the year.