Tips for Getting a Jump-Start on Spring Cleaning
Posted by Katherin Burnette on Thursday, February 21, 2019 at 8:30 AM
By Katherin Burnette / February 21, 2019
Comment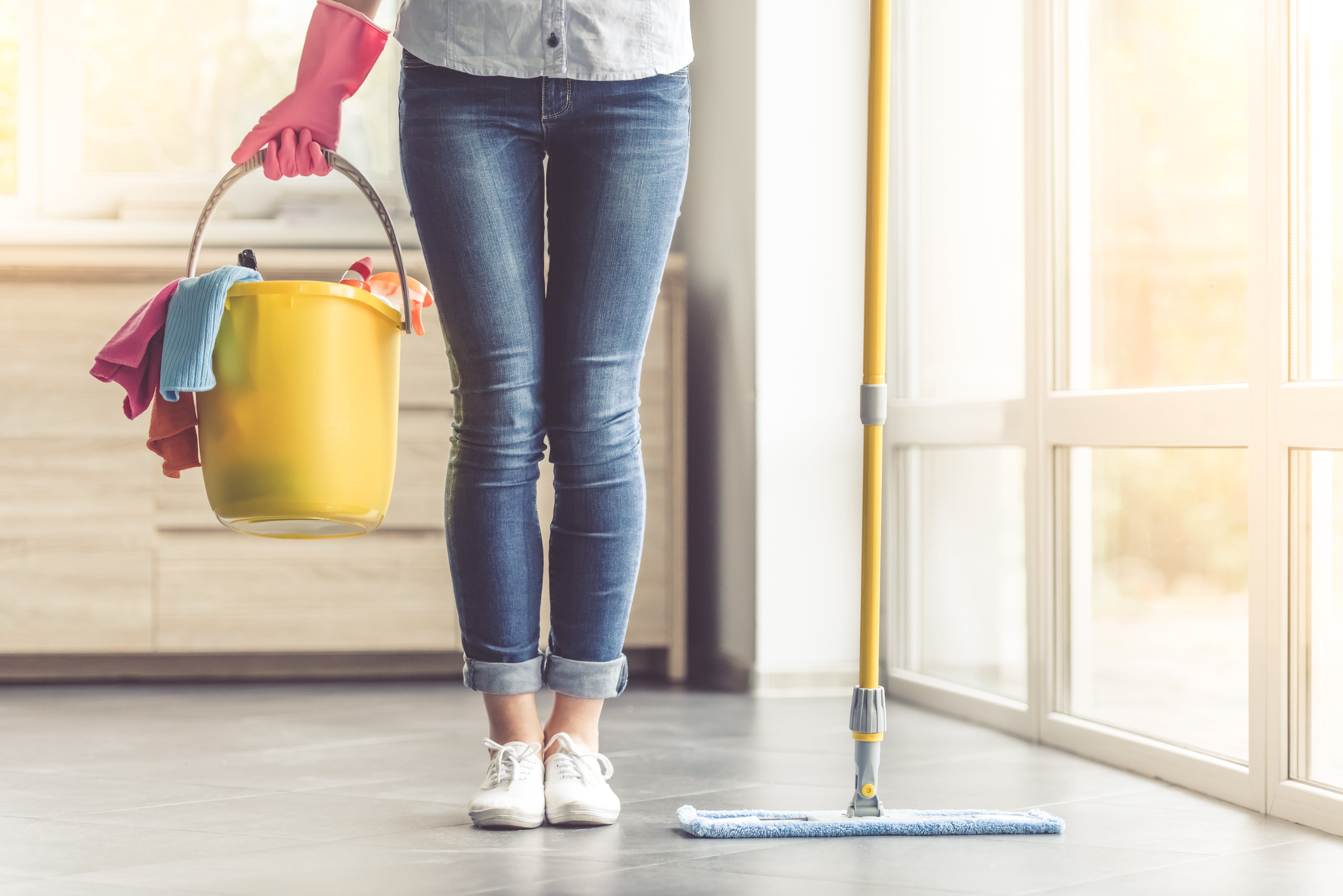 With warm, sunny weather comes the need to purge your home of unnecessary belongings and grime that's accumulated over winter months. If you make spring cleaning a regular part of your yearly routine, you're probably already started making mental notes of the spaces in your home that are in need of some serious TLC.
If you're looking to get a jumpstart on your spring cleaning, here are a few tips that can help.
The Oven
Rid yourself of the burning smell that wafts from the bottom of your oven when you cook by chipping off loose pieces of food and spraying the stuck bits with ammonia. A sprinkle of baking soda and a splash of white vinegar on the bottom of your stove should be enough to fight the grime and allow you to easily wipe away the remnants with a sponge.
Stainless Steel Appliances
Make a paste of water and about 1 teaspoon of cream of tartar in order to wipe away smudges and dirt from stainless steel appliances. Rub the mixture into the surface and wipe it away with a clean cloth to reveal your appliances' original luster.
Sinks
Use half of a lemon to rid your sinks of water stains by rubbing the juicy face of the lemon on tough spots. Let the natural acid of the lemon do the work. If lime buildup is a concern, cover the areas in paper towels and soak them with white vinegar. Let this solution sit and then remove after an hour for easy-to-clean lime spots.
The Stove
Ever used a wet dryer sheet to clean the bottom of a burnt pan? The same hack can help remove burned particles from your stove top. Grab however many dryer sheets you need to rid the surface of burnt food, wet them, and lay them flat on the ceramic stovetop for 15-30 minutes before rubbing off the burnt residue.
Tile Surfaces
So much grout, mold, and unwelcome bacteria can collect between tiles. Find a cleaner with a neutral pH that works for you or use a 1/2 cup of baking soda mixed well with 2 gallons of water and apply to the surface your tackling. This should help to break down grout and stains before it's too late.
Television, Laptop & iPad Screens
If you have a microfiber cloth you use to clean your electronic screens, make sure you're regularly hand washing them with warm water and air drying them. If not, try using coffee filters to gently remove dirt and smudges from your devices.
Bedding
It's easy to remember to strip your bed every two weeks to clean sheets and pillow cases, but it's not as easy to remember to clean the rest of your bedding. Make sure you throw your pillows and comforter in the washing machine multiple times throughout the year to fluff them up and keep them nice and clean.
Mattresses
There isn't a ton you can do to clean inside your mattress, but while you have your bed completely stripped, take your vacuum cleaner and vacuum out the nooks and crannies of your mattress. Spot clean stains and spray down your mattress with disinfectant spray to keep the exterior of your mattress clean.
Curtains & Drapes
If you're washing the windows on the inside and outside of your home, make sure to pay your curtains and drapes some extra mind by removing them from their curtain rod and throwing them in the dryer on the fluff cycle with a wet towel for 15 minutes. The wet towel will snag unwanted dust, just make sure to hang your curtains back up as soon as you get them out of the dryer to prevent wrinkling.
Clothing
Organizing your clothes is one of those chores that most people take on once or twice each year. Purge your closet and dresser of any clothes that you are no longer in love with. One way to do this is to select any clothes you haven't worn in the past year and donate them. Once you've narrowed down your selection, you can organize based on type of clothing or color. Save space in your drawers by folding your garments into smaller, neat squares, and organizing vertically rather than stacking them on top of one another.
Ceiling Fans, Cobwebs & Hard-to-Reach Places
Dust can collect in the strangest places, some of which are hard to reach. If you don't have an extendible duster, try wrapping one of your brooms in a towel and using that to rid your home of cobwebs and dusty excess.
The Grill
The winter breeds a chill in the air that makes grilling out a bit challenging. It's likely you're going to want to get back out there and start grilling once the weather gets warmer and having a clean grill can make all the difference. Start by heating it up and spraying some white vinegar to begin breaking down the leftover residue. You can then use half an onion to scrub away any excess grill grime.
Outdoor Furniture
Using warm water and a liquid dish soap that you trust, spray and wipe down your outdoor furniture in preparation for sun-soaked spring and summer outdoor living. Hose down the furniture once it's nice and soapy and allow it to air dry before relaxing with the beverage of your choice.
If you want to be able to really enjoy the warm weather to come, make sure to follow these helpful tips for getting your home in prime condition for sunny spring days.