DIY Tips: Kitchen Cabinet Facelift
Posted by Katherin Burnette on Thursday, February 7, 2019 at 10:26 AM
By Katherin Burnette / February 7, 2019
Comment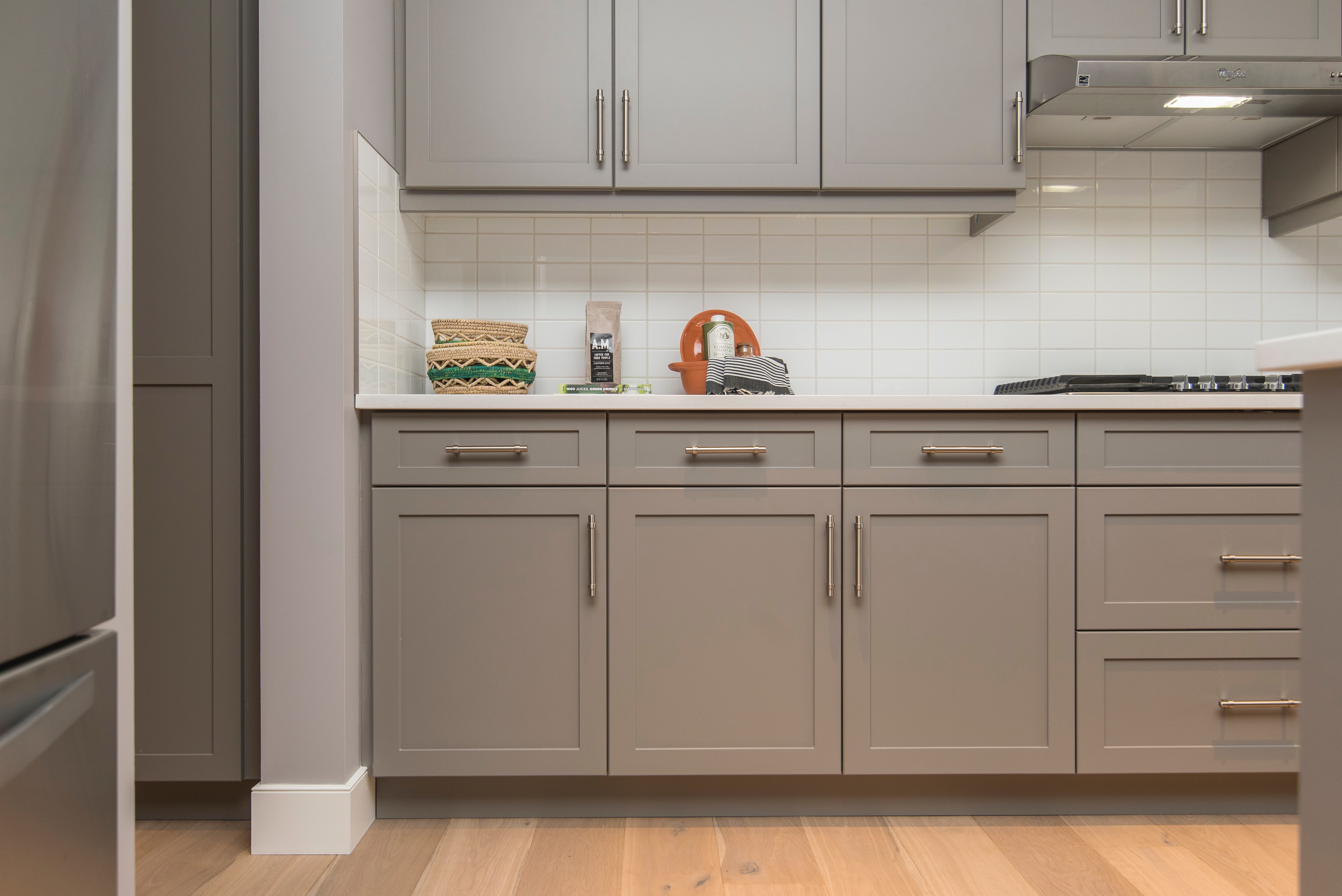 Whether you're considering listing your home on the market or simply wanting to spruce up the heart of your home, adding a fresh face to your kitchen with a new coat of cabinet paint can go a long way in transforming your home's overall image.
It may seem like a daunting task to tackle, but keep in mind that renovating kitchen cabinets can sometimes take up almost half of the entire cost of a kitchen renovation. Taking on revamping your kitchen cabinets yourself can save you a lot of money and allow you to really make the space unique. Here are a few tips for making it happen.
Relocate Your Kitchen
You'll need to remove most of your kitchenware from your cabinets for painting purposes anyway, so get a jump start and relocate your kitchen to a new place in your home. Make sure it's equipped with enough supplies to still make easy meals without obstructing your living space.
Protect Your Surfaces
First thing's first, you'll want to cover your countertops, backsplash, floors, and appliances with protective paper like builder's paper or rosin to avoid staining. Make sure your protective coverings are secure to eliminate any additional project-related stress.
Make a Cabinet Cheat Sheet
Keep track of where all your cabinets and drawers belong by labeling them and making a cheat sheet to guide you to their proper home when it's time to reassemble your kitchen.
Equip Yourself for Success
The right materials and equipment are key to successfully pulling off this project. Stock up on mini paint rollers, a square brush, an angled brush, a small sponge brush, and an HVLP sprayer - if that's your end game. You'll want to make things a bit easier on yourself by rolling the paint first and then going back over with a brush to even out the finish. If you want to speed up the process, an HVLP sprayer can do a quick and effective job evening out your paint layers.
Make sure to choose the appropriate paint to coat your surfaces by paying special mind to the paint's purpose. Choose a paint that, of course, is a color you want, but that also is formulated specifically for woodworking and cabinetry.
Decide on a Look
Narrow down your paint color based on the look you want to achieve and the existing features in your kitchen. If you have white countertops and a muted backsplash, consider a pop of color on your cabinets to make your kitchen a statement space. If you're going for a classic, all-white kitchen, think about mixing things up a bit by painting your island cabinets a contrasting color. Be mindful of trends if you're thinking of selling your home or want to create an updated look, but also keep in mind that trends come and go - what's in today may not always be desirable tomorrow.
Clean the Grime
Track down a great grease-fighting spray or solvent that you can use to scrub down your cabinets, cabinet boxes, and drawer fronts. Be sure to clean each surface, paying special mind to cabinets and drawers located near your stovetop where grease and oil easily splatter.
Sand it Down
Removing the finish from your cabinets will give the new coat of paint a good surface to attach to. The key to this is not necessarily sanding down to bare wood, but to simply sand enough that you remove the finish and create a rough surface. Lightly sand the surface to create texture and remember to use a coarser sand paper or sand sponge for cabinets with a previous paint job or varnish.
Rid the Dust
Before layering on any coats of primer or paint, you'll want to remove dust, dirt, or any other disruptive material that could make your surfaces bumpy and unpleasant. Consider investing in some tack cloths to help pick up any stray particles.
Don't Forget to Prime
Prep your surfaces with primer, making sure that the primer is compatible with the paint you've chosen. Depending on your end goal, you may want to consider your options ranging from quick-drying primer to an oil-based paint and enamel primer. While it can be tempting to get the project done faster, it's also important to focus on what you'd like your finished coat to look like.
Check for Imperfections
After you prime the surface, you'll want to check for any nicks, cracks, or dents that scar the surface of your cabinets. Use spackle or wood filler to fill in these spots before painting.
Sand as You Go
Remember to lightly sand your surfaces between each coat of paint, repeating the steps to vacuum and tack after each sanding. This way, you can ensure that all dust is removed and the paint will bond effectively.
Choose Hardware Carefully
If your kitchen cabinet revamp entails swapping out the hardware, make sure you're choosing the right look for the color, trends, and the rest of your home. You'll want to decide on a finish that complements your look by choosing carefully between options like brushed nickel, antique-brass, black powder-coated, polished nickel, and brass. This can be a great opportunity to make a statement if your cabinets are a more subdued color or keep things simple to really allow your new paint job to pop.
Hiring a professional painter to tackle this job may be tempting, but with the right tools, materials, and tips, you can revamp your kitchen's look on a budget. Always be sure to research the proper steps and consult local home improvement stores for further advice.