Virtual Meetings: More Tips For Working From Home
Posted by Katherin Burnette on Thursday, March 26, 2020 at 9:02 AM
By Katherin Burnette / March 26, 2020
Comment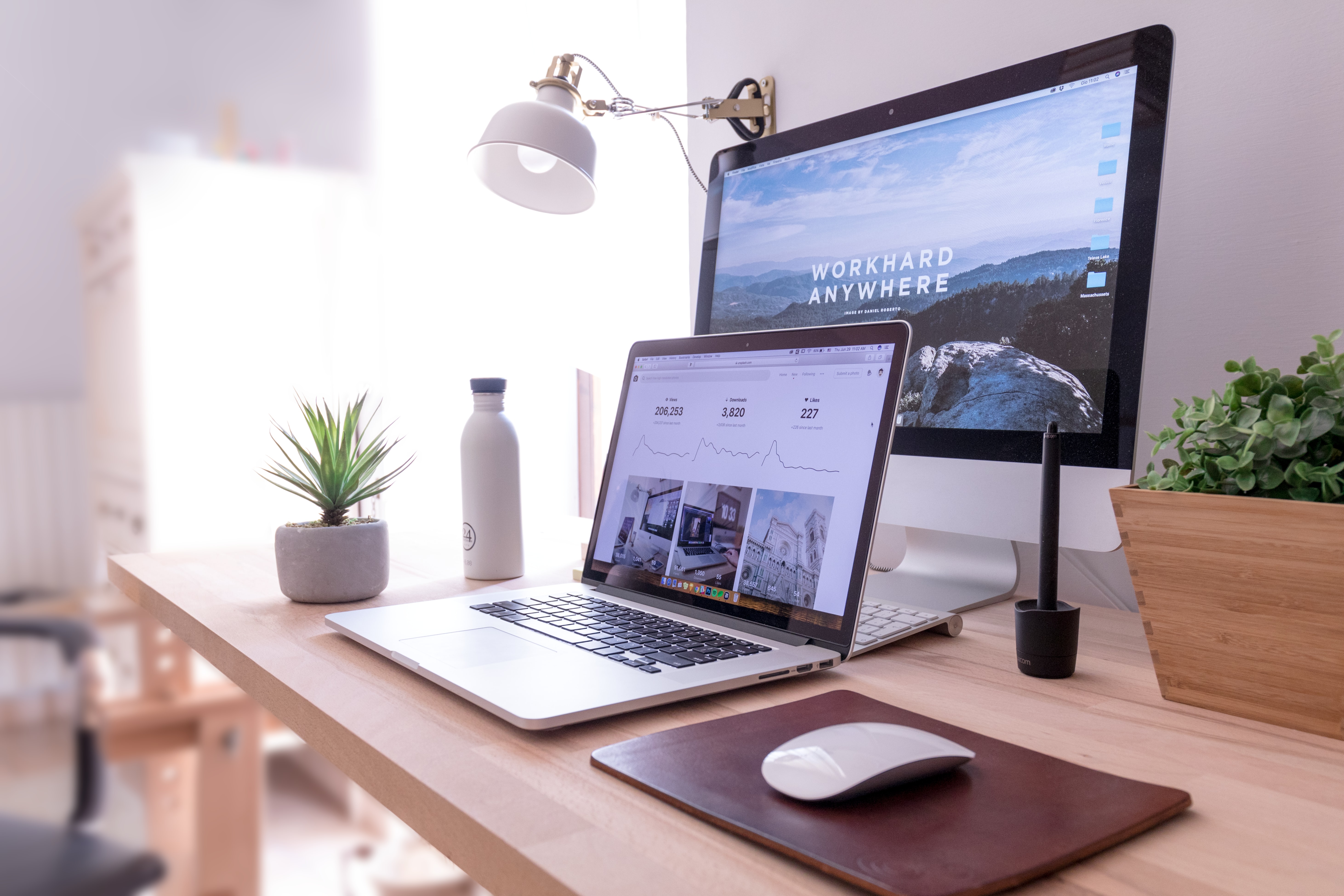 If you're working from home this week, hopefully you have found a schedule and a pace that suits your needs. Taking meetings from home can be a little tricky, especially if you're home with your whole family and there is a lot going on in the background. We've got a few "do's" and "don'ts" for online meetings to help you present your most professional face, even in the middle of a quarantine.
DO:
Join the meeting on time or a few minutes early.
Give yourself time to join the meeting and make sure everything is up and running properly. This way, you aren't starting the meeting late because you're trying to figure out the tech. Bonus: if you start the meeting on time, you can end it on time as well.
Make sure you're in a quiet area.
Even if you don't have a dedicated home office area, make sure that you are in a space away from the noise of the household. Shut the door if you need to, give treats to the pets to keep them occupied. Make every effort to minimize the background noise so that others on the meeting call can hear you clearly.
Invest in a good headset (if possible).
Believe it or not, this can make a huge difference. With a dedicated headset, you can minimize background noise and feedback from built-in speakers on your computer. It doesn't necessarily have to be a big "telemarketer" headset - even just a set of Apple Airpods (with microphone) can help make things clearer for both you and the others on the call.
Mute your microphone when you're not speaking to minimize background noise.
There is a button in many virtual call programs that allows you to mute your side while others speak. Don't be afraid to use it! Even if you've taken every precaution to avoid noise, there could be something unexpected - the dog may start barking, the kids may turn on the tv. Mute yourself when it's someone else's turn to speak to avoid distractions.

Speak clearly and concisely.
Due to the nature of virtual meetings, it is more important to speak clearly when it's your turn. Pause after asking a question to make sure that you're not talking over others trying to answer.
Pay attention.
This one seems like it should be a no-brainer (or maybe it's easier said than done). But trying to multitask during a virtual meeting just isn't as productive as you'd like it to be. While you're focused on typing up that report, you could be missing valuable information from your colleagues. Not only that, you're not able to contribute as effectively when you're trying to multitask. Close down those non-essential windows and just be present in the moment for a while.
Watch your background!
This is something that you may not even think about when attending a virtual meeting, but is important to preserving professionalism. Be aware of what is behind you if you are doing video calls, whether it's a pile of dirty clothes, old movie posters, or even the knick-knacks on the bookshelf behind you. This is not the time to show your co-workers (or even clients) your black velvet unicorn painting - save it for another day.
Respect others' time.
Just as with any other meeting, use the time wisely. If there are some minor items that can be done via email or Slack channel, even better. Keep things short if you can. It's helpful to schedule a start and end time for virtual meetings, to ensure that things run on-schedule. People's attention spans have their limits, so get as much done as possible in about 30 to 45 minutes. If you get to the end time and haven't covered everything you wanted to, schedule a follow-up meeting at a later time.
DON'T:
Make distracting sounds.
As much as we all love the Frozen movies, humming the soundtrack may be distracting to others. The same holds true for the clacking of your keyboard. Try to hold back, or use that mute button.
Interrupt other speakers or carry on side conversations.
Things are already difficult enough without having to listen to people talk over each other.
Shout or yell.
This seems like another no-brainer, but we'll say it just in case. If you feel you need to shout to be heard, you may have an issue with your microphone (or have forgotten to unmute yourself). Check your tech. And don't try to talk over others in the meeting. You will have a chance to speak your mind.
Use the built-in microphone and speakers on your computer if you can help it.
Some people experience echos or feedback with the built-in microphone and speakers. This is why a headset is recommended.
Place the meeting on hold.
If you're having technical difficulties, consider dropping out of the meeting while you figure out what the issue is so that others can keep the discussion rolling on time.
Other things you can do to make sure your meeting is productive and ends on a positive note include:
Having an agenda for the meeting sent out ahead of time;
Reviewing action items at the end of each call so that everyone is clear on what happens next and what is expected; and
Providing opportunities for Q&A during the session so everyone is on the same page.
It can be a challenge to stay on track when you're working from home, especially if you've never had to do it for extended periods before. But there are plenty of resources available to help you keep things together.
If you are curious about buying or selling a home, our wonderful agents are available via email and by phone to answer your questions. Call our office at 919-917-7100 or visit our website to see current listings!